Meet the Marching Red Devils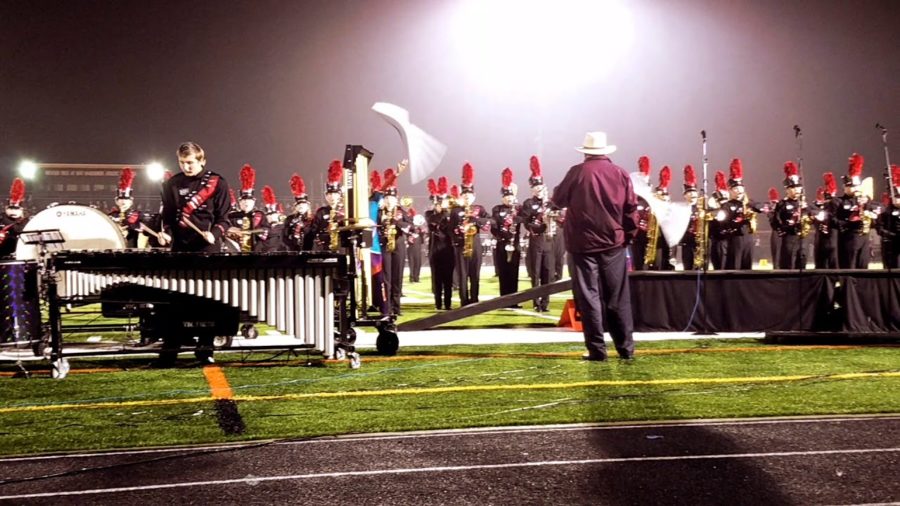 Josh Ellenbrg, Student Life
October 28, 2019
Out of all of the student activities at Hunterdon Central, the Marching Red Devils, or "MRD," Hunterdon Central's marching band for short, consistently have the most members.
The Marching Red Devils marching band is composed of three main sections: the winds, percussion and Colorguard. The winds are further split up into the brass and woodwinds sections. The brass section consists of trumpets, mellophones, baritone horns, trombones, and tubas. For woodwinds, students play clarinets, bass clarinets, flutes, piccolos, alto saxophones, and tenor saxophones. The percussion consists of the battery (snare drums, bass drums, marching tenor drums, and cymbals) and the "pit" (vibraphones, mellophones, glockenspiels, electronics, etc.). Together, these two sections make up the "musical" section of the marching band.
The visual portion of the marching band takes form in the colorguard. Through the use of flags, rifles, sabers, and props (i.e. umbrellas), the members are able to portray messages to the audience. These pieces of equipment are manipulated in ways akin to juggling. An additional element is added by using performance techniques. For example, if the mood of the song is meant to be intense and powerful, a color guard member may make their motions sharp and their faces angry. All in all, this contributes to the cohesive message of the show.
During the fall months, the Marching Red Devils participates in local, state, regional, and national championships. Local events are generally held at high schools, including a home show held on Stewart Field. State championships were formerly held at High Point Solutions Stadium at Rutgers University; the location has been changed this year to Lions Stadium at The College of New Jersey. Regional championships are held at Metlife Stadium in East Rutherford, with the MRD placing consistently within the top of their class. The National Championship is held at J. Birney Crum Stadium in Allentown, PA. Most of the competitions attended by the Marching Red Devils are run by the USBands circuit.
The band, in addition, has the opportunity to join Colorguard in the winter months. The Hunterdon Central winter guard, split into "red" (junior varsity) and "black" (varsity) teams, are consistently top dogs at local and state competitions. They compete primarily in the MAIN and WGI circuits. They plan on traveling this year to Dayton, OH, for the WGI Colorguard World Championships. There, the black team will compete in the "A" class against over 200 other high school color guards.
Evidently, students at Hunterdon Central are competitive. This idea extends to the Marching band and colorguard too, even though it may not be an activity that people perceive as competitive.