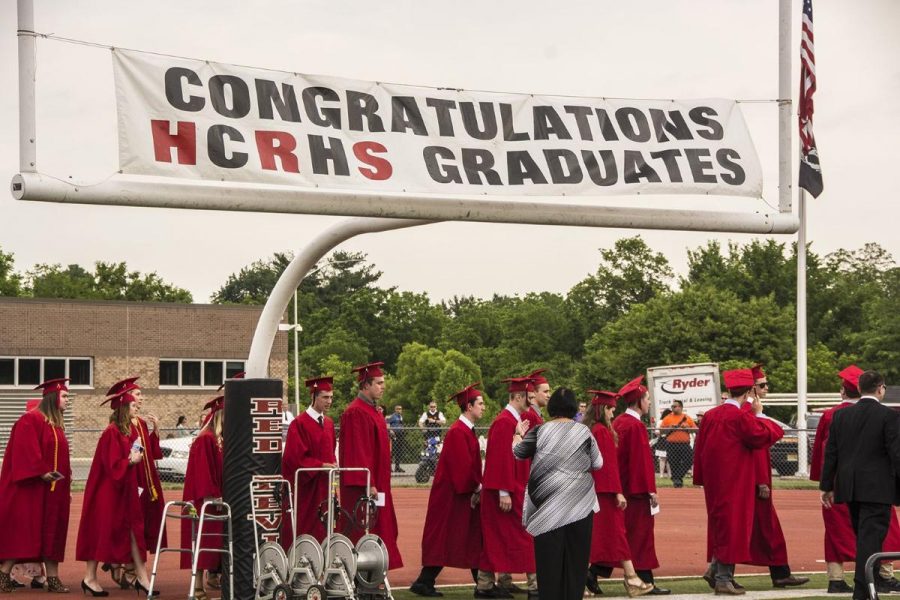 newjerseyhills.com
Editor's Note: Graduation plans continue to be adjusted in accordance with changing state guidelines. For the most up to date information on Central's plans go to https://www.hcrhs.org/myhc-parents/graduation
On Friday, March 13, students in the 2020 senior class at Hunterdon Central Regional High School were dismissed from high school for the last time ever. Seniors had no idea that day would be their last day at their high school, but nobody else knew either. They were also robbed of their proms, graduations, last spring season, along with many other things that would have created endless memories.
While seniors will not get their prom or last season with their lifelong teammates, they have a chance at having a graduation. 
On May 26, New Jersey Governor Phil Murphy announced that beginning July 6, modified in-person graduation ceremonies can happen. "Despite the uncertainty of these times, our students deserve to have their hard work acknowledged and celebrate safely. We have reached a point where we feel confident moving forward and giving our graduates the send-off they have so rightly earned," he said. 
Murphy's decision to permit any sort of in-person graduation is a great sign and is also an amazing thing for seniors across the state of New Jersey as they can be recognized for their hard work as they deserve.
Although seniors may have the chance to have their well-deserved graduation ceremonies, there are still some complications that may occur with a modified graduation. 
Hunterdon Central Superintendent Dr. Jeffrey Moore explained how we would want to conduct the ceremony to follow tradition and rituals performed at previous graduation ceremonies held at Hunterdon Central Regional High School. 
"So the planning started with figuring out what it is that we needed to preserve,' he said. "And there are two things that come to mind there. The first is that there were really important rituals that happen at graduation…but there's sort of these traditions of the school that everybody who's ever graduated from this school has gone through these rituals. And so we wanted to make sure we preserved that…when we look at all the restrictions around us, we worry about sort of that we're losing…here's this moment that happens at graduation, they're actually a few of them in the ceremony where you toss up your cap…you're up on the podium getting your diploma, there are these really important moments that are important to you and important to everybody…"  
Moore is determined to hold an in-person graduation ceremony, but at the same time, he doesn't want to break tradition or force anything that takes away what makes a graduation special. Also, this proposed in-person ceremony would be added to a virtual ceremony that will be held on June 19. Before the virtual ceremony, Hunterdon Central is holding a drive-through parade where seniors will be able to get their diplomas. 
Jack Nagy is a 2020 graduate as well as a member of the football and track team. "I have mixed feelings about the drive-through parade. I think the concept is cool and that the school is trying their best to recognize the seniors, but most of the kids' parents will be at work and won't be able to see their kid get their diploma, but at the same time it's just a drive-through parade, it's not like the real ceremony. It would be nice to see my teachers one last time, though," he said. 
There are going to be multiple ways the Class of 2020 will be recognized, but none compare to the traditional graduation ceremony. 
James Fastenau is the captain of the track team at Central. "My classmates and I have worked so hard to get where we are today, going all the way back to middle school or even elementary school, we've just come such a long way," he said. "I would love to be able to have a real graduation and celebrate with my friends and classmates." 
One way or another, the Class of 2020 will be recognized in the way they deserve. But there is still hope that someday the Class of 2020 will get their well-deserved graduation ceremony.