Senior Spotlight: Enzo Linarducci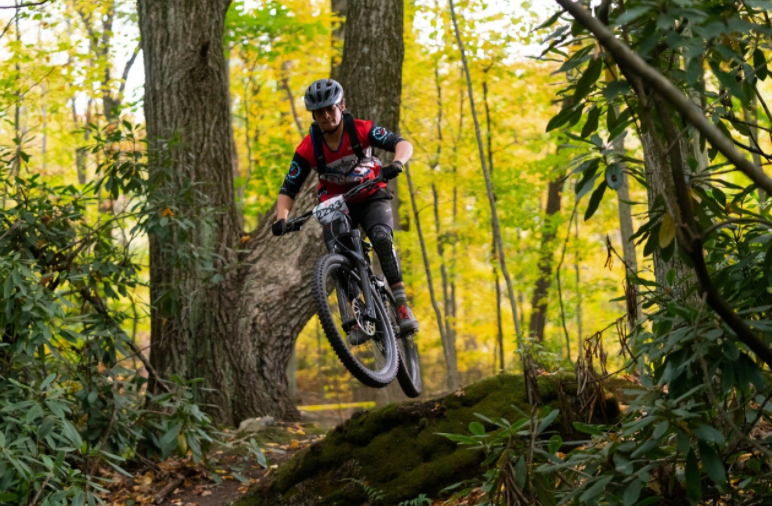 Enzo Lindarducci is a senior at Hunterdon Central Regional High School. During his freshman year, Enzo decided to take a break from playing soccer, and find a new hobby. When his father introduced him to mountain biking, he loved it right away.  Later that year, Enzo bought his first mountain bike, which allowed him to progress quickly. During his sophomore year, Enzo was hired at a local bike shop in Flemington called V5 Cycles. From working at the shop, Enzo learned all about repairs and sales. As time went on, he got better at mountain biking and his trail riding became more technical. Enzo began riding downhill at Mountain Creek Bike Park, one of the most highly rated mountain biking parks on the east coast. It was at this time that Enzo bought his first full-suspension mountain bike, which is capable of handling every trail at Mountain Creek and other biking challenges. 
Over the pandemic, Enzo worked every day to fuel the new rise of his interest in biking. When the shop was closed, him and his co-workers would spend their days riding at Mountain Creek. Enzo started off only being able to ride intermediate areas, but by the end of the season, he was able to take on the most challenging trails at Mountain Creek and the highest jumps. Besides just riding, Enzo also started racing enduro/downhill. 
Mountain biking has brought a lot of wonderful things into Enzo's life. It is a new sport that has quickly gained popularity in recent years. Enzo loves mountain biking so much that he has inspired his friends and family to also try this hobby. It has brought him a job he loves, knowledge in the field of mechanics and sales, and most importantly, it has introduced him to new people and several lifelong friends.