The "New Normal" (Except It's Not Normal)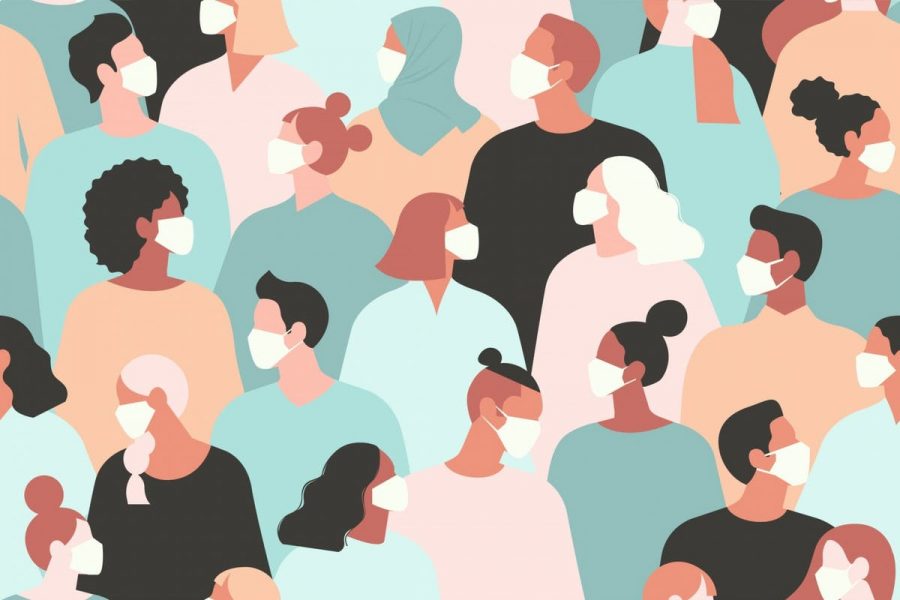 Claire Downey
December 14, 2020
Looking back on 2020, I find myself splitting up the year into several phases. The first started on New Year's Day and lasted until mid-March. Although the year didn't exactly start off well, (remember the Australian wildfires, Kobe Bryant's death, and the threat of World War III?), at that point, life was still relatively "normal." We started to hear rumors of a new virus, but most of us never thought it was just another part of the 2020 buzz. 
But then: Friday, March 13th. The day everything changed. Hunterdon Central, along with many schools across the country, went fully virtual, and the nationwide quarantine commenced. The number of cases skyrocketed, and everyone was terrified of either catching the virus or running out of toilet paper. Life was definitely not "normal."  How could we ever consider everyone stuck at home and fearing for their lives normal? I can't say it wasn't all terrible. Some people learned yoga, others brushed off the dust from their old jigsaw puzzles, and almost everyone taught themselves how to make sourdough from scratch (thank you, Youtube, for showing me how to make delicious bread). Basically, if you were fortunate enough to keep your job, or were a student like me, it felt almost like an extended vacation. This lockdown phase lasted until school let out for the summer.
The summer of 2020 was like no other. At that point, everyone was used to wearing masks, staying socially distanced, and generally trying to stay healthy. The number of cases had decreased drastically, and restaurants and stores began to reopen. The warm weather meant that we could move our "normal" routines outside, whether we ate at restaurants on the patio or hung out with friends at a local park. We all adjusted and did the best we could considering the circumstances. But, as the summer went on, we began getting tired of following every precaution – I find the term "pandemic fatigue" very appropriate. People started to return to how life once was, despite the warning that the fight wasn't over yet.
We are now in the fourth phase, an almost limbo somewhere in between total lockdown and how life was before. The number of daily confirmed cases is higher than it was in the spring, and yet it doesn't feel the same at all. It just feels strange. Schools are a perfect example of this phenomenon. Hunterdon Central is trying its best to remain open, trying to provide as normal a school year as possible. But, is this "new normal" beneficial? Should we do everything in our power to replicate how life once was? Or should we just avoid these things altogether because it just reminds us of how much better life could be? There is no one right answer to these questions, but I can only try to speak from personal experience.
For me, there were advantages and disadvantages to going back to school this fall. It's nice to have a routine again, and it is definitely easier to focus and stay productive in a school setting. In addition, you can build relationships with your teachers that you just can't have through a screen. Unfortunately, there were many negative aspects of returning to school in these circumstances. With the desks six feet apart, the absence of unit lunch, and us spending as little time as possible in school, there is almost no opportunity for socialization. Of course, I understand why we must take these precautions, but it's sad to go through your school day without seeing your friends at all. In that way, it isn't much different than virtual school. 
The same is true for sports and other extracurricular activities. I run cross country, and although we were lucky enough to have a season this year, it wasn't ideal. Throughout the season, I was constantly reminded about what I was missing out on. There were no weight room sessions, pasta parties, or any other extra events besides the practices, which were kept as short as possible. All of the important championship meets around the state were canceled, so we were stuck at our home course for the entire season. We weren't even able to have an in-person banquet, an event that I have been looking forward to since I was a freshman. I felt that same sense of disappointment through the clubs that I am a part of. Of course, every club meeting is online, which unfortunately makes it feel less important than an in-person meeting. Furthermore, we always discuss what would have happened during a normal year, all of the fun events and fundraisers and activities that we are missing out on, and that I, as a senior, don't have the opportunity to do next year if we get to the point where safer normalcy is achieved. We do what we can with virtual events and social media posts, but it feels very inadequate and insignificant.
Overall, this school year has made me feel like I'm missing out. As I walk through the hallways and drive to practice, I can't help but think about what could have been. What I would be doing right now if life was "normal." And yes, I appreciate the fact that people are doing their best to make things as close to "normal" as possible, but sometimes I wish that life was what it was before the pandemic. But, this is all we have right now. Our "new normal."