COVID-19 Can't Break the Girls of HC Swim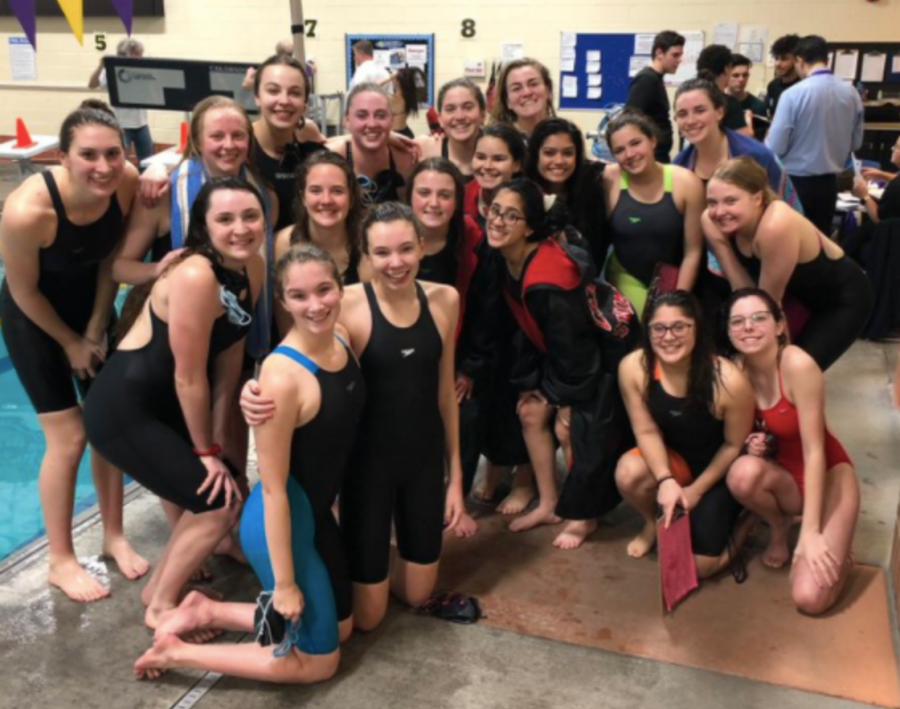 Rourke Peralta & Kendall Michaels
December 14, 2020
Every player knows it – the calm before the storm. That moment when everything goes quiet and yet it all seems to sink into place at the same time. When the ball leaves your hands and you levitate for a second before your feet slowly fall back to the ground. Or the excruciating wait after a pass to your teammate who is standing open, ready to score a goal.
 For swimmers, this moment happens the second before the official calls for the competitors to take their mark. When parents, coaches, and teammates stand still. The nervous chatter behind the blocks is quickly diminished. All six swimmers take a breath in unison, hearts falling into one fast-paced beat. Then, as suddenly as the world seems to stop, the bystanders on the pool deck are cheering for their team and the swimmers are suspended into midair, diving towards the icy water below. 
In a race like the fifty-yard freestyle, everything comes down to two laps. Having a "bad" start, taking an extra breath, or missing the wall could mean the difference between coming in last place or first. Swimming unleashes something different within me, and I will really miss the feeling of getting to race in events like the fifty free this winter. I have grown tremendously throughout my time swimming for Central, not only in the pool racing but also through all of the relationships I have formed with my coaches and friends. Throughout my career, I have been lucky to have received great advice and great teammates surrounding me and helping me become a better swimmer. This year, I was eager to finally qualify for the Meet of Champions in an individual event, to make a new personal record, and to finally catch up to the best swimmers on my team. 
With Governor Murphy's decision to postpone the high school swimming season until February, it seems as though all of that will have to wait. While this is disappointing news for all of us, I am really sad for the freshmen and everything that they will be missing. Having to wait longer than anticipated to be able to join the sisterhood of girls we make up as a team.  Not getting to take part in the long bus rides filled with us singing is truly saddening to see, coming from someone who deeply enjoyed that bond as I settled into High School. I also have sympathy for the sophomores, not getting to see the progress they could have made from their first season last year. As a junior, I am disappointed by the lack of time we now have during our high school careers to show that we are worthy additions to the team. And I am truly hurt for the seniors. Their final year is up in the air, the possibility of not having the proper goodbye they deserve grows greater every day. I am sorry for the coaches, who prepare workouts and never fail to get us ready for the season every year. 
I am confident, however, that coming out of this pandemic, Hunterdon Central Girls Swimming is going to be stronger, closer, and an overall better team. We now have two more months to practice and prepare for the team's thirty-first season. We have the opportunity to improve our mentality and continue our hard work, so when it comes time to race again, we will not just be ready as individual swimmers but as a team. Personally, I know that when the season starts, that fire within me will still be ready to ignite again, anticipating the start of 50 free and whatever comes next (Rourke Peralta, Junior). 
Despite the hardships brought to the world this year by COVID-19, a semi-normal swim season was supposed to be the positive encouragement that the girls' swim team needed. This great group of girls has the power to turn any bad situation into something to be proud of, and we share these great memories together every year. However, due to the pandemic, winter sports have been canceled and moved to early 2021. It is devastating for everyone, but especially for this year's seniors: our last year. The year that is supposed to be bittersweet and special, where we read our speeches out loud to the groups of parents at the banquet and have our Senior Night at the end of our last home meets with our friends and teammates by our side.
For me, the news of the season being postponed has been very upsetting. I was looking forward to normal meets where spectators and my friends could come and cheer me on. I was really looking forward to seeing my friends who are in different grades that I might not pass in the hallways or see at all during the off-season. However, I know this executive decision was for the best. It is important that we stay careful for the time being and try our best to maintain safety, especially while the COVID-19 cases are steadily rising across the nation. 
I am confident that we will have our season at a later date, and when we do, we will find ways to make it special. We will continue to work with each other and form bonds from a distance – whether that be through social media, or in our team group chat (which is still active, even a full year after our season ended last winter). Swimming is an intimate sport, but with the proper precautions, the Hunterdon Central Girls Swim Team will come back stronger, mentally, and physically. We as a team will get through the season together, supporting each other at every turn, both in the pool and out (Kendall Michaels, Senior).