Senior Spotlight: Julia Wagner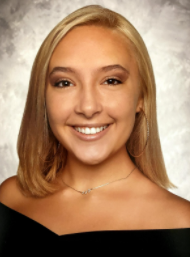 Julia Wagner is a current senior at Hunterdon Central, and she is very eager to explore the world and gain more independence in the coming years. She was recently accepted into The College of New Jersey's Class of 2025, and has committed to go there starting this fall. She plans to study Spanish and Secondary Education, and earn a double major in these areas. She plans on becoming a Spanish teacher.
In her free time, Julia enjoys playing guitar and piano, singing, long car rides, listening to music, drinking iced coffee, and spending time with her friends and family. She loves to travel, and has been to many different vacation destinations throughout the country. However, she has only left the country once when she was very young on a family vacation to Bermuda. She hopes to be able to travel to Spain, Mexico, and other Spanish-speaking countries soon while studying abroad. Julia also loves animals, and has three pets, and loves spending time playing with them. 
As part of her travels, Julia would love to discover all of the best restaurants and coffee shops to visit all over the world. She has always considered herself a "foodie", and just recently has become infatuated with coffee and all of the different types of it. If she ever finds the time, she would love to visit different small restaurants and local coffee shops that are famous for their food and drinks.