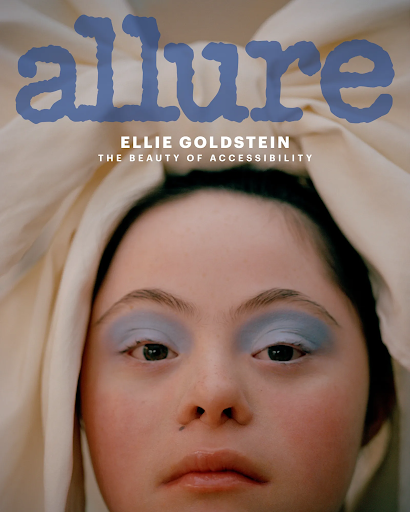 Let's all be real here, we never see disabled people being majorly advertised in the modeling industry. When most people think of models, their minds immediately go to people like Kendall Jenner, or Gigi and Bella Hadid. In other words, able-bodied women. Have you ever heard of Ellie Goldstein? Well, she's a beautiful woman who changed the face of Gucci Beauty.
19-year-old Ellie Goldstein was born and raised in Essex, England. Only being a short 45-minute drive from the heart of London, Ellie has always found opportunities to be the star. She quickly found her passion for entertainment at the age of 5, when she started taking dance classes. Ellie has taken part in dance productions at the Royal Opera House and Royal Albert Hall. "I love being seen," Ellie told Dianna Mazzone, senior beauty editor from "Allure" magazine (Ellie Goldstein Always Wanted To Be Famous). Being born with down syndrome Ellie has always been seen, but in a different perspective than she wanted. There would always be the occasional stare and point, but what really bothered her was when people would first meet her they would automatically assume she couldn't talk or think for herself. Once she started to show her personality, they soon realized she was just a normal girl who looked a little bit different from the outside. Ellie never allowed society to change the way she viewed herself or her dreams. She always believed in herself and knew she was going to make it big.
 Ableism refers to the misguided notion that able-bodied people are superior to those with a visible disability. In an industry that is obsessed with appearances, models who are disabled face very overt discrimination and are often rejected solely based on their disability. Fortunately, nowadays, more and more agencies have been casting disabled models in an effort to embrace inclusivity, like Zebedee Management. 
At the age of 15, Ellie signed with Zebedee Management, an agency that represents people with visual differences and disabilities. Zebedee was founded by Laura Johnson and Zoe Proctor, both of whom started out in the entertainment industry by teaching theater arts to young adults with disabilities. Their idea sparked from questioning why their students weren't getting the same opportunities as other performers and models. They soon founded Zebedee Management. Starting small, they advertised their management in disabled communities as a way to get their intended audience. As thousands of applications came, they soon realized they were onto something. Like any new business, Johnson and Proctor got a lot of hate from opposing management firms. Head booker of Zebedee, Sue Moore, says other management would say, "No, I don't think they're ready for that yet" (Ellie Goldstein Always Wanted To Be Famous). Although this was discouraging, Zebedee pushed aside alternate views and worked towards their goal.  
When first starting with Zebedee, Ellie was still a hidden gem waiting to be discovered. Patience and determination are two key traits she has always held onto. Waiting for that perfect opportunity was all she could think about and finally, it happened.
Hundreds of headlines came spewing out of various magazines, all talking about this new model who changed the face of Gucci and Vogue. Ellie was granted a starring role in the new editorial for Gucci Beauty in partnership with Vogue Italia. Her love for beauty and makeup ignited at the age of 2, when her older sister, Amy, would pamper her with makeovers. This experience came in handy when she also starred on Vogue's YouTube channel for the skincare routines of various Vogue models. "My dream job [is to] be on the front cover of Vogue and work for other big brands," Ellie expresses to Tish Weinstock, writer for Vogue (Meet Ellie Goldstein). As of July 2020, Ellie Goldstein's dreams did come true.
As Ellie Goldstein continues to grow a name for herself, her values have still stayed strong. When being asked what her message is for the world, Ellie states, "Be yourself and don't worry about what other people think of you" (Meet Ellie Goldstein). Through heartbreak and failure to never give up and reach her dream, Ellie has stayed a strong positive woman through it all. Ellie's story is one of many other models in the industry, and this is what makes her an inspiration to models and influential teens all around the world.