Too Tired to Learn
A lack of sleep is plaguing students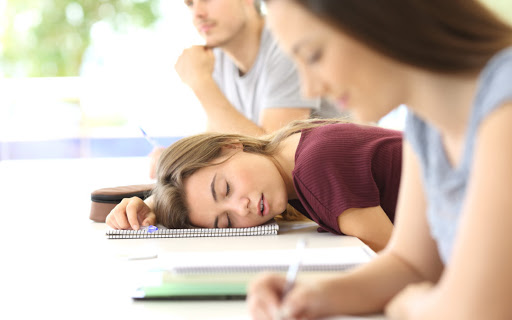 Sophia Aquino, Journalism Student
February 19, 2020
At 5:30 am, Hunterdon Central freshman Isabella Tahaney's alarm goes off. She procrastinates for another half an hour trying to get as much sleep as she can before heading off to school. 
It is a Monday, and a B day, which means four honors classes, and then two and a half hours of ballet when she gets home. Somewhere in between, she must do homework, take care of her dog, and help her younger siblings. As she gets off the bus and begins her walk down the hall, she eats her breakfast before the first bell. 
This is the beginning of a busy week, where she will spend her time trying to get done homework and spending up to twenty-two hours at dance class and rehearsals. 
Like Isabella, many students are not able to get the appropriate amount of sleep per night to guarantee enough energy for a productive day. According to the Centers for Disease Control and Prevention, high school students should be getting around eight hours of sleep.
Mr. Kevin Maldonado, a counselor at Hunterdon Central, understands the problem. "They [students] just try to push through the day. But what ends up happening is that when you are overtired and overstressed your ability to handle any kind of set back or conflict, or you know, normal anxiety-inducing moments, your ability to manage just becomes so much less," he said.  
The lack of sleep students are getting each night is affecting their ability to do their best in school. Students are tired, and therefore are getting sent to the counselors' office and the nurse which causes them to miss important material during class.
In a study done by the Centers for Disease Control and Prevention, they found that almost three-quarters of high school students are not getting enough sleep.
The Center believes that having boundaries set for when and where students use their phones/devices could help. This is a widely agreed-upon idea that the National Sleep Foundation supports. They have proven that the 'Blue Light Effect' prevents your body from releasing melatonin, which your body uses to fall asleep. 
Supporting this fact, Ms. Jennifer Amato, a nurse at Hunterdon Central High School, could not agree more. "No phones before bed! It stimulates your brain," she said.   
Students also spend much of their time studying and completing homework before finally settling down to go to bed. 
Maldonado wants students to understand when they have done all they can. "At a certain point you're not going to be able to absorb any new information," he said. "The information is just not going to stick." 
He believes that many students need to learn when to stop and take time to rest and relax. Finding a way to help students take a break could positively impact them. He suggests creating a half-hour buffer in between work and sleep. Some things he suggested are:
Listen to music

Watch TV

Read a book

Take a shower
"If your brain is on and on and on until the moment you crash into bed, you're not going to have a restful sleep," Maldonado said.
Another suggestion involves not doing work in bed and allowing your bed to be only for rest.
According to the American Academy of Sleep Medicine, ways to help students get more sleep more consistently are to make sure they go to bed and get up at the same time. This will allow them to develop a sleep schedule that their bodies will get used to overtime. 
Many of the ideas suggested by experts lead to one conclusion: consistency and knowing when to stop. When students understand their bodies and know when enough is enough, they will be able to consistently go to bed each night.   
At last, the final bell rings and Isabella leaves her honors science class with her friends. They walk down the crowded halls trying not to get pushed over as they laugh about the day's events. After they say goodbye Isabella gets on the bus to go home. 
When she gets home she immediately takes care of her puppy, Ginger, and sets up to do her homework before her siblings get home. 
A few hours later, Isabella rushes to her room and begins to pull her red hair into a perfect ballet bun. She's off to the studio to dance for a couple of hours before coming home and doing some last-minute studying. 
Tomorrow she will wake up and begin the process over again.