Homecoming Happenings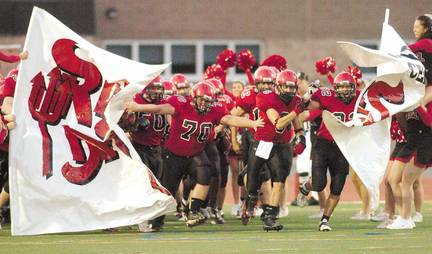 Hang on for a minute...we're trying to find some more stories you might like.
The Blue Streaks of Warren Hills High School travelled 35 minutes south to take on the young and hungry Hunterdon Central football team on October 20th at 7:00 PM kickoff time. This was not the typical friday night game, as it was full of emotion and a high intensity brawl right from kickoff as the Red Devils defended their home turf. Sadly, for most of the Red Devil seniors, this was their third to last competitive football game of their high school lives, along with a special moment for their parents to be walked onto the field together with their son.
Warren Hills came in at 3-3 overall and 2-2 in conference with two games remaining. Hunterdon Central was 2-4 overall and 2-3 in conference, with two games remaining — an away game against Watchung Hills High School and an away game against Union High School. Warren Hills were coming in hot off a 14-10 win against Montgomery High School, while Hunterdon Central was looking for a win coming off a double loss drought in the prior Friday night to Hillsborough at home, a blistering 6-35.
When Hunterdon Central head football Coach Casey Ransone was asked about what the upcoming matchup meant to him he responded with, "Having the opportunity to be the head coach at Hunterdon Central is something I will never take for granted. We approach every game exactly the same but we have a great understanding of the importance to perform well on homecoming.  It's a special night for our players, school, and community.  We are preparing ourselves everyday so we can give our best effort and get a win on homecoming." You were lucky to get a seat as this game as it was highly anticipated from all students, friends, and families. The student section was loud and energetic as usual, looking to cheer on their friends and fellow classmates.
Considering the inexperience and youth on this football team, mistakes are common, but the talent on the Hunterdon Central roster is undeniably noticeable. Those looking to lead their team to victory with minimal mistakes are senior Captains Jack Kovi and Sean Parker who both had impressive seasons. Feeling confident in his team for the matchup, Head coach Casey Ransone said, "The key to winning the game is playing mistake-free football.  We are an extremely young football team that has shown a lot of grit this year.  If we can play mistake-free football and execute when plays are there to be made, we are confident the outcome will be in our favor." Yet, playing perfect football is easier said than done seen with a four fumbles against Hillsborough, making a third straight game loss.
As a first year head coach of the program, Coach Ransone is surely happy with the start of his first season. Although the Central football had a chance to end the season above .500, meaning more wins than losses, their current record showed promise for the program and its future. It all depended on if the team could come out with a hard fought win. By a hair, they pulled through under the pressure to Warren Hills, winning a nail-biting 21-19. Their major victory proved the Hunterdon Central football team's determination and perseverance on the field, not only for their friends and family, but also for the community and school they represented.