Hardy's Coffee Bar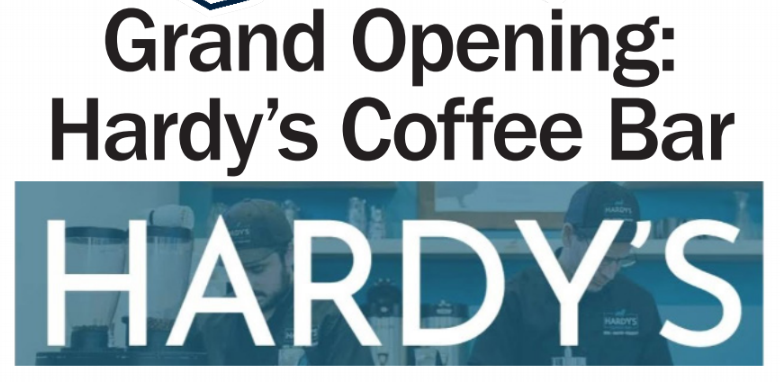 Lauren Benson, Features
February 20, 2019
A cozy room with a fireplace, the earthy smell of coffee grounds, and the buzz of conversation and clinking glasses—this is the experience you will receive when you visit Hardy's Coffee Bar. Located on Bloomfield Avenue in Flemington, NJ, Hardy's just opened about a month ago. The coffee bar is quickly becoming popular; not only have residents of Flemington discovered it, but people from neighboring counties as well. They're open Monday to Saturday from 8 in the morning to 6 in the evening, and closed on Sundays. There are new customers every day who get easily acquainted with the unique menu. In fact, many students from Hunterdon Central have discovered the coffee bar, offering those who live in Flemington a convenient and quiet place to study.
The space is relatively small; however, this fact only adds to the café coziness. The fireplace and general organization of the coffee bar perfectly fits the mood. As you order your drink, the staff makes it for you right then and there. You can get it to go or drink it at one of the tables that line the room. As far as parking goes, there is street parking right in front of the store with additional spots around the corner from the shop.
My first Hardy's experience was fantastic; the staff was upbeat and pleasant, the atmosphere unique and cozy, and the coffee aromatic and earthy. Walking through the door, I was greeted by two staff members who helped explain their menu after welcoming me. (Everyone there was friendly.) They recommended their most popular drink, a latte, which looked—and tasted—wonderful. The milk used for their coffee is organic and their coffee beans are bought from worker-friendly farms in South America. The vanilla beans, used for the lattes, come from Madagascar. Other than coffee, they sell delicious treats from The Fudge Shoppe in Flemington, so you can enjoy them with your coffee!
Another unique aspect about this coffee bar is their reasonably priced year-long membership. A membership for one person is nine dollars per year. The membership gives customers access to a 'special member' menu as well as a one dollar discount on drip coffee!  Members will also receive a Hardy's Coffee Bar key fob that will unlock the front door during business hours.To get more information about this membership and how to sign up, be sure to check out their website or stop by the coffee bar to ask questions.
Despite the seemingly affordable year-long membership to Hardy's Coffee Bar, there are aspects of the shop that are rather expensive, and the unique membership experience makes Hardy's exclusive—and not necessarily in a good way. For example, in order to get in the door, you need a key fob. Although you might be able to get more information on their website, very little information is available about the membership. Your next best bet is to go to the shop, ring the doorbell,and be welcomed into the store. You cannot directly walk in without a membership, which might make Hardy's seem a bit too pretentious for some. The sticker price on a cup of joe is steep at approximately six bucks. So imagine: for the first cup (the first time you even taste Hardy's, before you know whether or not you like it), you pay around $15! Regardless, for all the coffee fanatics at Central, a Hardy's membership could offer numerous benefits, including a one-dollar discount on drip coffee, access to a "member's menu," etc.
Located in downtown Flemington, this store will surely garner attention as it becomes more well known. It's worth stopping in to Hardy's Coffee Bar the next time you're in the mood for a quality coffee or coffee beverage. Will you have to drop a few extra bucks for it. Sure, but sometimes it's worth it.
Plus, what coffee fanatic doesn't want his or her very own key fob to an exclusive coffee club?