Hunterdon County's Hero- The Flemington Food Pantry
Hunterdon County's Hero- The Flemington Food Pantry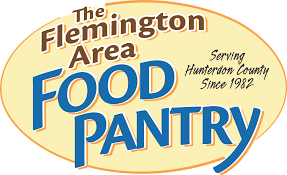 Food is a necessity. You can't live without it. However, thousands of Hunterdon County citizens are food insecure. In an area such as Hunterdon County, it is easy to turn a blind eye to struggle. In fact, according to Forbes, Hunterdon County was on the Top 10 List of "Richest Counties" with a median household income coming in at $102,191 (patch.com). It is easy to make the assumption that humans of Hunterdon County live comfortably. However, there is a group of people that fall between the cracks, and only if you look close enough will you truly see them. 
Don't shut your eyes to them, they sleep in their cars at the Walmart parking lot, they bike and walk to work in the scorching heat or bitter cold. An estimated 5,000 people in Hunterdon County fall below the poverty line. 
But there's a beacon of light in a situation like this. And its name is the Flemington Food Pantry. 
Prior to working with the Flemington Food Pantry, I didn't know much about anything. I didn't know how much of an organized system it was, or how many people went to the food pantry or the different ways businesses contributed to it either. I was introduced in my Sophomore year of high school. Around this time, to escape from the ever-growing pressure of school work, I began creating scrunchies from quilting fabric scraps that my Mom and her friends were going to throw away (in my mind I considered this 'upcycling'). Additionally, I was enrolled in a class at Hunterdon Central called "Leadership and 
Philanthropy" which had a curriculum that circled around the different ways the student body could help local foundations and nonprofits. Upon learning more about the food pantry I wanted to find a way I could help. Eventually, I was able to reach out to Kristin Stockwell, a higher-up in the Flemington Food Pantry. 
With an email corresponding with Kristin, I began to realize how strong a system the Food Pantry is, operating Monday through Thursday 9 am-11:30, with occasional Wednesday evening hours, it is a well-oiled machine that runs on good-hearted local businesses, dedicated volunteer workers and donations. 
I told Kristin Stockwell about my project and the Scrunchies I was making and selling out of old materials. Kristin became intrigued by my project and suggested that I could donate them in making "Birthday Bags" for younger girls.  
On Tuesday morning before school, I drove over to the food pantry to drop off my Scrunchies and was amazed to see see the volume of people in the parking lot and lobby. Upon entering The food pantry was in a rush for such a time of day, volunteers packing plastic and paper bags, fixing orders and hustling customers out of the door in order to make room for more people at the counter. Eventually, I was directed to Karen and given the opportunity to tour and experience how the food pantry composed groceries for its customers. The whole process was organized chaos. With volunteers all over the place shifting from crates to bags, to moving from produce to non-perishables. I was absolutely astonished to see how complex the process was. 
As I discussed with Karen I told her about the materials I used for my scrunchies as well as the tags I attached to them, a tag that informed the receiver "fun" ways to recycle, an oncoming personnel project to make more people aware of global warming and recycling. Karen began to show me the different ways the Food Pantry recycles, from the paper bags they give to customers to the daily sorting of plastics to make the most out of their Recycling. She additionally told me that utilizing reusable bags can be quite tricky. Firstly, many customers don't bring reusable bags in the first place, secondly, due to sanitary reasons after customers get their groceries in a crate, they can beg their goods themselves into their own reusable bags. 
The Flemington Food Pantry additionally only receives reusable bags to give out about twice a year, and it's a luxury to receive paper bags from donating grocery stores too. Karen told me she fears the impending doom of anti-plastic in grocery stores, following the example of Lambertville's ban of all plastic bags. She understands it's inevitable and hopes by then more customers will be bringing their own reusable totes to pack groceries. 
I promised Karen I would ask for donations of gently used or new reusable bags, as well as donations from companies. Well, that brings it up to now and of course, the COVID-19 Virus.  With heightened security around sanitation, I am not able to collect reusable bags for the Food Pantry. However, the Flemington Food Pantry still bears its arms open for those who need it in times of crisis demonstrating its title as a true Hunterdon County Hero. 
About The Author 
The author attends Hunterdon Central Regional High School and identifies anonymously. The author has a passion for journalism and created company Scouts Goods to bring fun and environmental awareness to the Flemington Food Pantry. The Author additionally loves watching movies, taking long walks and drinking coffee!
Contacts 
Kristin Stockwell- [email protected]
Works Cited 
Flemington Food Pantry
"Flemington Food Pantry". Flemington Food Pantry, 2020, http://flemingtonfoodpantry.org/. Accessed 6 Apr 2020.
Hunterdon County Among 10 Richest In America: Forbes
"Hunterdon County Among 10 Richest In America: Forbes". New Hope-Lambertville, PA Patch, 2017, https://patch.com/pennsylvania/newhope-lambertville/hunterdon-county-among-10-richest-america-forbes. Accessed 6 Apr 2020.