Quarantine Diaries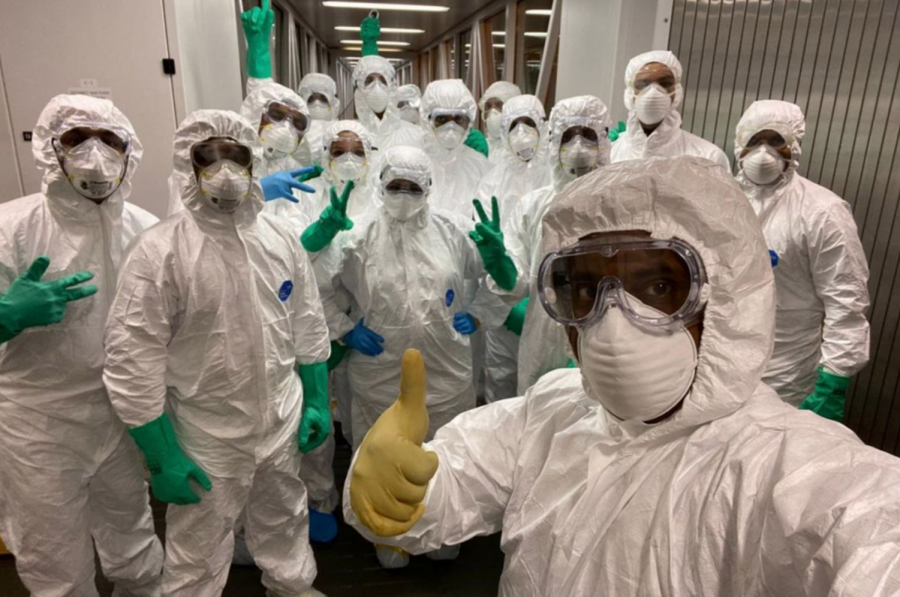 March 15, 2020
Coronavirus. If I had a dollar for every time someone said that word, I would be rich. 
I check my phone in the morning. What are my notifications? Coronavirus. I sit down to eat breakfast with my family. What do we talk about? Coronavirus. I turn on the news. What are the CNN reporters talking about? Coronavirus. 
Suddenly, this virus is all we talk about–so I'm going to talk about it some more. 
This virus has altered the way many of us view the world and our own lives. For millennials and generation z, coronavirus has made them realize that life is short and you only live once (YOLO). Some young, healthy individuals took advantage of cheap flight tickets to live their dreams and travel the world. Others used this "break" from school and work to spend time with their friends and loved ones. For the baby boomers and generation X, coronavirus has made them scared and anxious for their family's health and well-being. 
All schools in the U.S. are now closed. Companies have adjusted their workflows to allow non-essential employees to work from home and help follow social distancing guidelines. As the virus spreads rapidly, health-care professionals will eventually contract the virus. If doctors and nurses around the world become ill, who will be left to take care of the rest of us?
March 30, 2020
It has been roughly two weeks in quarantine. As I look through social media, I see my friends and peers are ignoring the "social distancing" guidelines just to hang out with each other. Sure, they may be young and have good immune systems that can fight off the virus. However, if they spread the virus to family members who are elderly or have serious health conditions, it could become a serious issue. 
What people who are uneducated about coronavirus don't understand is that by social distancing, you are not only protecting yourself but everyone you come in contact with. Leaving the house because you are young and healthy is selfish. You could be asymptomatic but a carrier for the virus. In other words, you may not be sick, but you could get those who have underlying conditions sick. 
As a majority of middle and upper-class Americans have the ability to work from home and protect themselves from the virus, others aren't so lucky. Health-care professionals are putting their lives at risk every day to care for others. Grocery store and food delivery employees are also putting their lives at risk to assist customers and deliver groceries. 
Terrified UPS employees fear losing their jobs, so they're going to work with corona-virus-like symptoms. In addition to risking their lives, a majority of these workers are still only getting paid minimum wage. It is unacceptable how those who work from home are getting paid our usual salary (more than minimum wage) while non-medical front liners are getting paid minimum wage (which is $11 in NJ, by the way). 
So when all of this is over, let's remember that it wasn't the billionaires and CEOs in the world who saved us. It was UPS employees. It was the grocery store and food delivery workers. It was the janitors. It was the nurses. Without them, we wouldn't still be alive. 
April 1, 2020
Things are getting worse. The United States has over 200,000 confirmed cases of the virus- more than any other country in the world. And that is just the number of confirmed cases in ONE country.
I believe many of us are still in shock that this is really happening- I know I am. As I sit in my bed in sweatpants typing this, it's hard to imagine what's going on outside this bubble I seem to be living in.  Inside our homes, life feels like a never-ending lazy weekend.  Outside our homes, the virus is spreading rapidly, and more and more people are dying every day. One day, the bubble most of us are living in is going to pop. In other words, one day, all of us are going to be exposed to the virus. What happens then? 
April 15, 2020
Remember when I said things were getting worse? Well, that was an understatement. 
Two weeks ago there were 200,000 confirmed cases. Now there are 800,000.
May 4, 2020
Governor Murphy announced today that all New Jersey schools will remain closed for the rest of the school year. I mean, I'm not surprised. I think I can speak for most students at Central when I say that I expected this to happen. 
To be completely honest, I miss school. I miss seeing my friends, my favorite teachers, and staff members. I miss walking in the halls with my AirPods in, listening to music. And I also miss the possibilities that each day could bring. For the past 2 months, I feel like I've been reliving the same day over and over again. Every day is the same: I do school work, I work out (with Chloe Ting, of course), I go for a run or walk outside, I spend time with family, I watch Netflix. It almost feels like we're living in an infinite present. There are no future plans. No celebrations, events, travel plans. We have all been desperately waiting for the day quarantine ends- meanwhile two months have flown by! Maybe it is time we stop waiting and make the most out of each day instead. 
May 15, 2020 
As the weather gets nicer, residents of Hunterdon County are eager to get out of their homes and enjoy the nice weather. Teens are drowning in boredom and are breaking quarantine to meet up with their friends. As I look through Instagram and Snapchat, I see my classmates posting pictures with their friends (who are definitely not keeping a 6 feet distance or wearing masks, btw). Just because the weather is nice, doesn't mean the pandemic is over. Just because you're bored, doesn't mean the pandemic is over. Trust me, I understand the temptation. I would love to get out of my house to see my friends again. But now is not the time to take risks. Now is the time to take precautions.
The fact that stores are slowly starting to reopen doesn't help this situation. As Governor Murphy gradually begins to lift lockdown restrictions, people are even more tempted to leave their homes. Parks, golf courses and beaches have reopened. Many ice cream parlors are already open for the summer, and soon enough gyms and clothing stores may also reopen. 
Some of us think that just because we've been in quarantine for over 2 months that the virus "magically went away." Well, it didn't. The virus is just as bad as it was two months ago. Just because restrictions were lifted and you are allowed to leave the house doesn't mean you should. However, if you are desperate to see your friends, it is important to follow the social distancing guidelines. Meet in a park or outdoor space. Stay a minimum of 6 feet away at all times. Wear masks. Take these precautions to prevent yourself and your loved ones from getting sick.