Celebrating life during a Pandemic
Birthdays, graduations, other events go on as teens and families adapt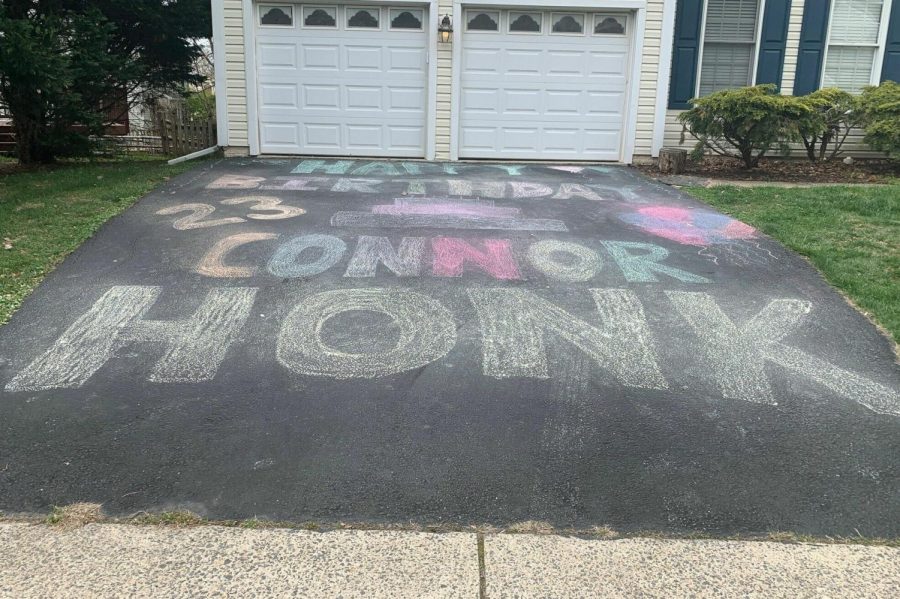 A girl stands waving violently at her friends and family driving past in their cars. Screams of "happy birthday" can be heard echoing from the street. 
Celebrations like this one are becoming more and more common as we remain in our battle with Covid-19. 
Olivia Angelozzi, a junior at Hunterdon Central, discusses how the pandemic has affected her family. "For my cousin's fourth birthday we had a Zoom birthday party," she said. 
While this may be a confusing time, staying connected is very important to the human spirit. Ms. Katy Edgar, counseling services supervisor at Hunterdon Central mentions how important it is for students to take control of their own mental health especially during times when we are apart. 
"What we've tried to do is create different platforms like other Student Assistance counselors have Google classrooms where we're pushing out a lot of content to you guys, to try to help you and give you tools that you can use at home to address your own mental health," she said. Humans need and crave physical interaction. 
Angela Ziganshina, a junior, acknowledges how strange this has been to adjust to during special events."Having to celebrate a friend's birthday party without being able to hug them is a really strange sensation," she said. 
Drive-by birthday parties and zoom parties have become our new normal in terms of celebrations for important events. Probably the most notable is the topic of graduation. How can we celebrate our seniors while also being safe? 
Zoom graduations have been happening all over the country. For instance, star of the popular television show The Office, John Krasinski started a YouTube web series called "Some Good News" where he shares positive things going on in the world amongst all the bad. He held a Zoom graduation for the class of 2020 with graduates from all over the world and giving the class speakers an opportunity to read their speeches and a select few to ask questions to celebrities about what's next after graduating high school and college. 
Opportunities like this are uncommon but giving everyone who's taking the next step in life or in their education should be celebrated, even in times where we must stay apart.
Mental health is something that is very important and can normally be correlated to our ability to be surrounded by the people we love during times that should be celebrated.
"
Just because we must be physically apart does not mean we must be socially apart. That's just not healthy"
— Krystal Cropsey
Junior Fabianna Rincon believes that taking a step back is just what we need sometimes.  "I've been doing really well in quarantine. I know that's not the case for everyone but being able to take a step back has been really refreshing," she said. 
This could be said for a lot of people or on the opposite end of the spectrum some could be suffering. Being able to stay connected through social media or platforms like texting and Zoom is super important for those who don't have someone at home to talk to. 
Krystal Cropsey is a mother of high school students and the aspect of being separated from friends made her concerned about her children's mental health. "Just because we must be physically apart does not mean we must be socially apart. That's just not healthy," she said. 
The human spirit will always find ways to prevail. During these hard times, the creativity and kindness that has been shown have reinspired our hope that humanity still exists. Finding new ways to celebrate things and people we care about is just a testament to how we as people persevere. 
We'll all be together soon. But for now, keep making signs, keep driving by on birthdays, keep decorating for zoom parties, put on your prom dress or graduation gown. Don't sacrifice what's important to you because we all need people.