Pizza Around Hunterdon County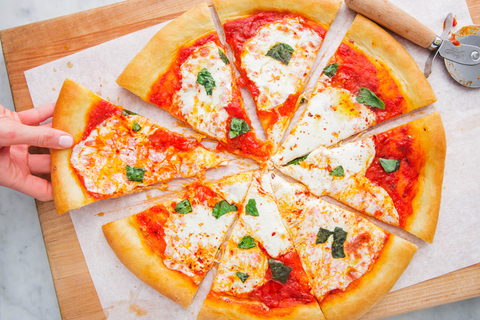 Pizza is a staple of American culture, and one of the foods that New Jersey is proudly famous for. Around Hunterdon County, there are plenty of pizza places to visit; not only to enjoy food with family and friends, but to also support local businesses.
Starting off, the Stanton Italian Table is located on the corner of Stanton Road and Stanton Mountain Rd, in Readington. Stanton Italian Table is home to a variety of Italian and American food. The restaurant opened in January 2019, but the building dates back to 1837 as the Stanton General Store. It is a family-owned business that has been around for 30 years.  The restaurant has a Yelp rating of 3.5 stars, from 8 reviews, and a Google Review rating of 4.8 stars, with 121 reviews.  The restaurant also offers pickup, delivery, and catering for small events. The menu items range from delicious Italian dishes to more American classics. Some of the Italian specialties include a large variety of pizzas, homemade pasta, and homemade mozzarella cheese. The menu also features burgers, wings, and salads, for those looking to try something else.
Sorella's Pizzeria is another great restaurant located in the Station Center Mall on Route 22 East in Whitehouse Station. Sorella's is a family-owned small business that opened in 2013.  The restaurant has a Yelp rating of 4.5 stars, with 48 reviews, and a Google Review rating of 4.6 stars, with 135 reviews.  Many of the reviews, on both platforms, compliment the food and the service.  The menu consists of mostly pizza and other classic Italian dishes, such as pastas and hot and cold subs. Sorella's offers takeout, delivery, and catering.
Heading to the west side of the county, you will find Jack's Pizza, located on East Main Street in Flemington. According to many reviews, Jack's is a classic mom and pop type of shop.  Jack's has a Yelp rating of 4 stars, with 18 reviews and a Google Review rating of 4.4 stars, with 65 reviews. The menu has a wide variety of pizza, including traditional, gourmet, and Sicilian styles. They also have pasta, burgers, hot and cold subs, paninis, chicken dishes, and even tacos.  The menu also consists of lots of catering options, and the website mentions that they offer both takeout and delivery.
Fourth and finally is the Hunterdon County favorite, Delizia's. This pizzeria has three locations: Flemington, Dover, and Ledgewood. The closest one to Hunterdon Central is the Flemington location, which is located on Route 31 by Walmart. The Yelp rating for the Flemington location is 3.5 stars, from 75 reviews, and the Google Review Rating is 4.5 stars, with 267 reviews. The Delizia menu consists of many different types of pizza as well as pasta dishes, paninis, salads, hot and cold subs, and much more. Catering, delivery, and pickup are available at all three locations.
New Jersey has many options when it comes to pizza and Italian food. Each pizzeria offers a slightly different experience, but they all stay true to Jersey's excellent pizza standards.