"Mr. Vice President…I'm Speaking": Kamala Harris' New America
There they were, cool and casual, a pair of sneakers laced up on the cover of Vogue, the most prestigious and exclusive fashion magazine in the world. Her signature black Converse Chucks peek up in the bottom two inches of the cover, directly under the title, "By The People, For The People." This is precisely the message Vice President Kamala Harris aims to send through her political dress: she is working for those at the heartbeat of America. She has not for a moment gotten caught in the affluent, exclusionary atmosphere of politics. Vice President Harris stands at the crux of New America, armed with her intelligence, modesty, and effervescence, all while laced into her signature kicks.    
From studying at the Hasting College of Law to being elected as California's Attorney General, Kamala Harris has always been heavily involved in public services. However, she did not stop there; she soon found herself immersed in politics and was elected as a Californian senator. She most recently became the first female, first African American, and first South Asian Vice President of the United States. Harris has openly projected her beliefs and morals through her line of work; however, many have not realized the subtlety of the symbolism behind the clothing she wears. Although it may look like a simple blazer or just a pair of converse, both the colors and accessories she wears make a bold statement that speaks to her beliefs and personality.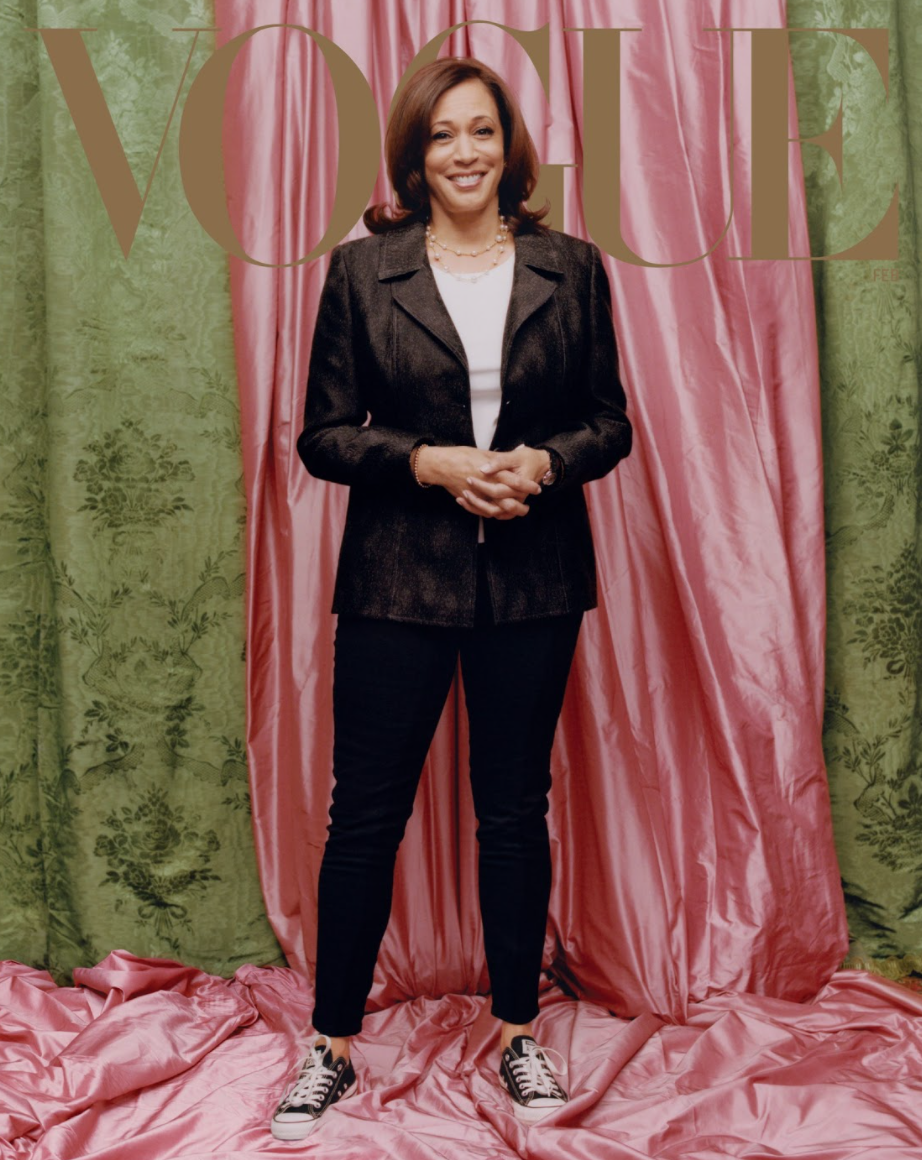 After being named Joe Biden's running mate for the 2020 Presidential Election, more attention was brought to her sense of style when she was spotted campaigning in Wisconsin wearing a bold blazer paired with skinny jeans and her converse. According to Town and Country Magazine, Vice President Harris works closely with one of Hollywood's famous stylists, Karla Welch, who is known for her "perfectly imperfect off-duty looks." Her chucks represent her confidence in her style while communicating and understanding their accessibility to everyone regardless of their age, race, gender, sexual orientation, or socioeconomic status. Women in the Senate have always been expected to wear dresses and heels. That was until 2013 when an 11-hour filibuster against an abortion bill took place and Texas state senator Wendy Davis wore pink running sneakers. Since then, other names like Rep. Alexandria Ocasio-Cortez and Sen. Elizabeth Warren have appeared doing the same.
A pair of Chuck Taylor's are a staple in Vice President Harris's closet, and they are frequently paired with an iconic pearl necklace. Her pearls have followed her since her time as an undergraduate at Howard University, where she was a member of a sorority whose founders were known as the 'Twenty Pearls.' She graduated Howard with a single strand of pearls and matching earrings to symbolize power and purity of heart. She continues the tradition at every significant event in her career, from 2005 when she was elected as California's first female Attorney General, to most recently in August 2020, she made history as the first female vice-presidential nomination.
Vogue Magazine's February 2021 issue features Vice President Harris wearing a more casual outfit with her infamous skinny jeans, converse, and of course, a pearl necklace. The cover sparked backlash, as it was criticized for looking "poorly lit" and portraying the Vice President in a "disrespectful" way. In response, Editor-in-Chief Anna Wintour and her creative team backed their decision for the cover, stating that they believe "the casual look was right for the current climate," according to CNN. 
Vice President Harris quotes, "I may be the first to do many things—make sure I'm not the last." VP Harris is known for being a leader and influence on the young population, and many appreciate her stance on including women, particularly women of color, in governmental roles. Vice President Harris is all laced up in her signature chucks and pearls, ready to continue making history.