Celebrating Women's History Month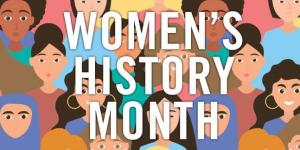 The month of March is a month of celebration of women's key role in society and a reminder to acknowledge women throughout history. This year, in honor of Women's History Month, consider celebrating by following the work of some of the best female influencers out there.
Amanda Gorman
After reciting her poem at the presidential inauguration in January, Amanda Gorman became a household name. A recent Harvard University graduate, Gorman became the youngest inaugural poet to date, and has used her newfound platform to motivate young women just like her. Gorman uses her platform to promote social justice, be a force for good, and to share her progressive ideas with the world. To learn more about Gorman or to follow her on social media, visit her website: https://www.theamandagorman.com/. 
"She Takes on the World" Blog
"She Takes on the World" is an inspirational blog that promotes female empowerment. The creator, Natalie MacNeil, shares the story of how she became successful in her professions, and inspires others to pursue their individual career goals. MacNeil is a strong, hard working woman, and this strength is reinforced throughout her website. This blog is incredibly inspirational to all looking for a motivational boost to follow their ambitions. "She Takes on the World" can be accessed with this link: https://shetakesontheworld.com/.
Malala Yousafzai
For years now, the world has heard of Yousafzai's story. She has won the Nobel Peace Prize for fighting for gender equality, and more specifically female access to education. Growing up in rural Pakistan, Yousafzai witnessed first hand how detrimental a lack of education can be for a young girl. Her memoir, "I am Malala", is available at most places where books are sold. To stay updated on her journey to equality, follow her on Instagram: @malala or on Twitter: @Malala.
Michelle Obama
Quite possibly one of the world's most well-known feminists, Michelle Obama has been a force to be reckoned with for decades. As First Lady of the United States, Michelle Obama maintained an image of her own and stood up for what she believed in. Throughout her life, she has been an incredibly hard worker and received a strong education, giving her the tools she needed for her fight for equality. Her new memoir, "Becoming" is available in most places where books are sold and she is also on Twitter: @MichelleObama and Instagram: @michelleobama.
Women's History Month can be used as a time to reflect on the successful women who have been fighting to gain gender equality over the years. However, it is also an urgent reminder that progress comes from hard work, and that if everyone contributes, equality can be achieved. Thus, it is important to celebrate the message of Women's History Month year round to make the world a better, more equal place.