ABBA: 40 Years Later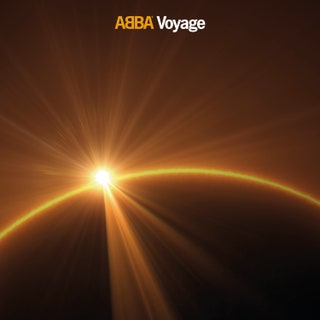 The iconic Swedish pop band and creators of "Mama Mia," ABBA, have recently returned to music after not releasing anything for nearly 40 years, their last studio album being from 1981. After debuting two new songs, "I Still Have Faith in You" and "Don't Shut Me Down," they released their new album, Voyage. Like in the old times Bjorn Ulvaeus and Benny Andersson write the songs, but now they leave the vocals to Faltskog and Anna-Frid Lyngstad. This album hits on their classic melodramatic lyrics, but almost every song is in a different genre. Some feature more intense snares, while others have angelic violins.
The album starts with "I Still Have Faith in You," a song with dramatic vocals and intense snare drums. It represents that the band still has a strong bond after all of these years apart. While the song shows that their relationship as a band still isn't perfect, it highlights the forgiveness between band members to get them where they are now. Though there isn't a narrative covering the whole album, a similar theme of growth and nostalgia follows throughout the rest, just like the first track. "When You Danced With Me," a piece with an energetic Celtic beat, is the perfect example of this. It follows the narrative of someone moving away and changing but still missing their old life and memories. The track concluding the album is "Ode to Freedom," a song with boisterous violins. Despite the upbeat nature of the track, the lyrics are cynical, saying, "That's why there is no ode to freedom truly worth remembering." Voyage is a collection of different tunes and stories. It also has a taste of the ABBA we know and love mixed in with the modern touches.
While Voyage is ABBA's highest-charting album, reaching No.2 on the Billboard 200, this doesn't come close to showing how influential the band is, considering they have produced 12 other charting albums. Back in 1973, the four members began preparing a song, "Waterloo," for Eurovision. Eventually, the song won the competition and became one of the best singles of all time, selling more than 6 million copies after charting No.1 in the UK and other countries. The band followed this success with the album ABBA, containing one of their most loved songs, "Mama Mia." While this album missed the charts, the albums following this certainly did not. They released Arrival in 1976 with their other classics, "Dancing Queen" and "Money, Money, Money." Around this era, it was almost impossible to miss ABBA on the radio because of their catchy songs. They also marketed themselves as a family-friendly experience, massively expanding their audience.
With this new expansive audience, there were many new groups of people influenced and inspired by ABBA and their unique sound. Max Martin, a Swedish writer and producer, began creating music like Taylor Swift's "Blank Space," to carry on ABBA's influence in music and define modern pop. Many other stars have collaborated with Swedish producers and mimicked portions of ABBA's sound, like Katy Perry, Icona Pop, and Kelly Clarkson. Another modern song influenced by ABBA is from one of Sweden's own, Tove Lo, with her song "Habits (Stay High)". The song replicates ABBA's simple and melancholy lyrics. Many more have taken their piece of ABBA's sound for themselves.
After having 13 albums charting on the Billboard 200, ABBA is undoubtedly a creative powerhouse. While Voyages might be their last studio album (opposed to the 1981 album, The Visitors), they are far from being forgotten. Their unique sound and melancholy lyrics will continue to be replicated for many years to come. 
Leave a Comment