The Return to Hogwarts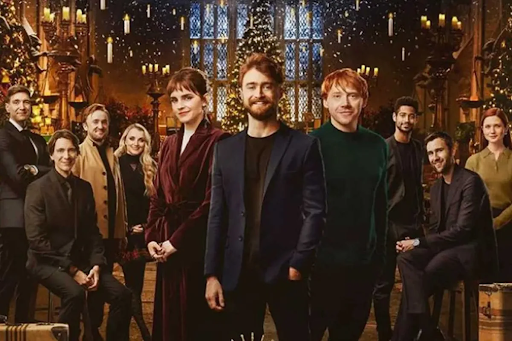 Can you believe that it has been 20 years since the first Harry Potter movie was released? Millions of fans are still wrapping their heads around it; even the actors themselves feel as if time has flown by. Ever since the first movie was released, the world of Harry Potter has skyrocketed, reaching millions in many different countries. J.K. Rowling's seven-part book series was adapted into eight movies in total. Directors split the last book, Harry Potter and the Deathly Hallows, into two parts giving fans a dramatic, well-deserved finish to the series. In honor of the 20th anniversary, the whole cast reunited for the first time in many years. They gave fans a reunion special, "Harry Potter 20th Anniversary: Return to Hogwarts" that premiered on HBO Max on New Year's Day 2022. 
The reunion special was split into four parts, each dedicated to two films. The cast and crew returned to the set of Hogwarts, where they had spent ten years of their lives, growing up and becoming adults. The golden trio: Daniel Radcliffe (Harry Potter), Emma Watson (Hermione Granger), and Rupert Grint (Ron Weasely) reunited and discussed memories they had during filming. They talked about their feelings about growing up on the set of the Harry Potter films and how much love they have for each other. 
Aside from the famed "Golden Trio", other supporting actors reunited and shared their experiences on set as well: Tom Felton (Draco Malfoy), Matthew Lewis (Neville Longbottom), Evanna Lynch (Luna Lovegood), Bonnie Wright (Ginny Weasley), James and Oliver Phelps (Fred and George Weasley), Robbie Coltrane (Rubeus Hagrid), Mark Williams (Arthur Weasley), Gary Oldman (Sirius Black), Helena Bonham Carter (Bellatrix Lestrange), Jason Isaacs (Lucius Malfoy), and Ralph Fiennes (Lord Voldemort). Although some of their characters hated each other on-screen, these actors developed strong relationships that have survived the test of time.
Of course, there wouldn't be a movie without the crew, bringing the fictional world of Harry Potter to reality. There were four different film directors, Chris Columbus, Alfonso Cuarón, Mike Newell, and David Yates, who created the eight Harry Potter movies. They appeared in this special and talked about their experiences casting roles, interacting with the actors, and sharing their overall vision for each movie. The reunion also featured footage of how certain scenes were created, such as the quidditch matches and casting spells, with each director's unique take. 
Harry Potter is for all ages and all generations. Parents who grew up reading and watching the movies have passed it onto their children who have found a love for the series as well. It truly is a timeless work of art. It's a form of escapism from reality that brings the reader into a world of magic and excitement. J.K. Rowling's detailed writing draws people in, creating a world where anyone could see themselves. It has sparked people's imagination that they never knew they had. People sort themselves into Hogwarts houses such as Gryffindor for the brave, Ravenclaw for the wise, Hufflepuff for the loyal, and Slytherin for the ambitious. Theme park attractions were created in an effort to emulate the world of Harry Potter such as The Wizarding World in Universal Studios in both Orlando, Florida and Los Angeles, California. There are rides that take people on an adventure with Harry Potter, clothing to buy to look like a wizard, individualized wands to pick to cast spells, and food and drinks that have been featured in the movies, such as scrumptious butterbeer or gilly water.
If you have never read Harry Potter or have never been interested, be a part of the fun and pick up a book; maybe it will surprise you. Or, if you are not interested in reading, watch the movies and see the magic of the story come to life on the screen. And if you are a fan, then definitely watch the reunion special. The love the actors have for each other, as well as the love fans have for the story, truly is special. There is no doubt that Harry Potter's legacy will have lasting effects on our generation and future generations to come. 
Leave a Comment