Central Lifts Its Mask Mandate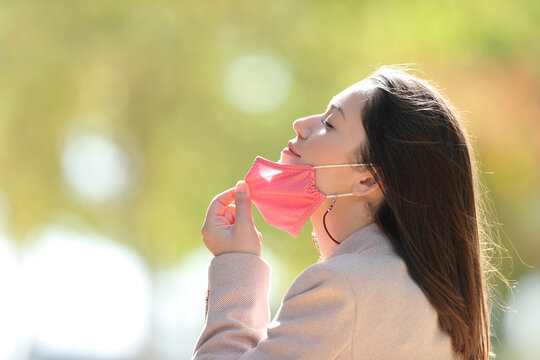 On the infamous March 13th 2020, an announcement on Hunterdon Central's loudspeakers confirmed what the rumors had been saying; due to the spread of COVID 19, our school would be closing for two weeks. Those two weeks slowly became months, which turned into years. A lot has changed since then. We all faced our own challenges during the virtual and isolated years, but now things finally seem to be taking a turn for the better. The spike in cases caused by the omicron variant seems to have settled, and NJ has gone back to the "yellow" zone. This also led to the Governor announcing that masks would no longer be mandated in public spaces starting March 7th. 
So what does this mean? No, COVID is not completely gone. The point is to slowly return to "normalcy". Essentially, we have to learn to live with the pandemic. Doctors who support the unmasking of students say that seeing faces is helpful for education, and can have a positive impact on mental health. But for many students, normalcy is still scary, especially after being told for two years that hanging out with friends indoors was too dangerous. Students have been wearing masks in school since September of 2020. This seems like ages ago, but was actually just the start of our hybrid learning, half-day year. Along with anxiety about the virus, many students are dealing with the anxiety of revealing your face. "I feel more awkward than usual," said junior Amelia Kaye Wolfe. After all, just about a month ago, we had emergency virtual days in the winter due to a spike in cases. Most people had covid or knew someone that did. Of course it's only natural that this would cause some uneasiness and confusion, but we eventually needed to  pick up the pieces and move forward. 
That doesn't mean that it's way too dangerous to take off the mask. Its entirely up to you to decide! Unmasking after so long can be relieving, like finally taking a step in the right direction. While it may take some time to get used to other classmates' faces, as well as the feeling of not wearing a mask, this is what lies ahead of us. Also, many students and staff are now vaccinated, providing us all with extra protection against COVID. Not to mention that with the warmer weather it's easier to leave the windows open and go outside in class more, allowing for more ventilation. This is what has permitted classes to become maskless. The lifting of this mandate does not mean masks are completely gone though. Should cases rise again, Hunterdon Central must be prepared to respond to the threat and reinstate masks for the school's safety. 
While we are trying to go back to normal, it's not the old normal from pre-pandemic. Instead, it's what scientists have been calling the "new normal." We have to  be prepared to go back to masks, and exercise caution. But nevertheless, this is still a milestone to be celebrated. For a while, the end of the tunnel was nowhere in sight. This is a step that says the pandemic may not be entirely over, but it's getting there. And so for now, whether you choose to wear a mask or leave it at home, appreciate the steps we have taken to get to this point. Just the fact that we have the option to be maskless is progress.
Leave a Comment