Earth Day 2022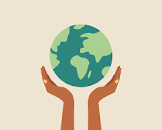 Earth day is a holiday that is celebrated annually on April 22. It is meant to help spread awareness about helping the Earth by participating in cleanups, spreading education, and working to find better solutions to issues such as climate change and energy.
The earth is in crisis right now due to human actions. Scientists claim that we are in the sixth mass extinction of species due to human activities. This is caused by things like habitat loss, deforestation, and pollution. In addition, Earth's natural resources, such as coal, oil, water, and natural gas, are being exploited. We are using them up too fast for it to be sustainable. Burning fossil fuels releases greenhouse gasses into the atmosphere, raising the temperature of the earth. This is leading to climate change: ice caps are melting, raising the sea level; weather patterns around the world are less predictable and more extreme; it threatens biodiversity; erodes the coastline; and harms human health. Coral reefs are dying due to acidification of the oceans due to increased carbon dioxide. The Great Pacific Garbage Patch is a patch of trash in the Pacific Ocean that is about twice the size of Texas. Littering can kill sea animals because they may think the trash is food and consume it. Practices such as fast-fashion or using single-use plastics are unsustainable and add to the heaps in our landfills.
There are so many ways to remedy the harm we have caused the earth. Planting trees can help combat deforestation and climate change because trees take in carbon dioxide. It can also help prevent soil erosion and prevent landslides. Participating in beach cleanups reduces the amount of trash in our oceans, helping to protect sea wildlife. Recycling slows down consumption of earth's resources. Carpooling, walking, biking, or using public transportation rather than using your own car is better for the environment because less greenhouse gasses are released into the atmosphere. Growing your own produce is also good for the earth because less energy goes into food transportation. Taking shorter showers or turning the faucet off while brushing your teeth can help save water. Eating less meat can help reduce the amount of land being used for farmland and help prevent deforestation and the release of methane in the atmosphere. Turn off and unplug electronic devices when you are not using them.
Getting involved in local organizations is also a great way to help the earth. Beach Sweeps is an organization that hosts beach cleanups on the Jersey Shore. Buying from local farmers markets is a great way to support local businesses and help the earth. Signing petitions to help pass legislation against harmful practices or substances can help spur environmental action on a national level. Spreading awareness and helping educate the community is very important because you can inspire others to take action. You can make your next meal plant-based.
Earth day is a great holiday to shed light on the devastation we have caused the earth. Many environmentally-friendly events take place on or near earth day, but it is important to take care of our earth all year round.
With the way things are going, our time is limited. We are boiling alive. Our seas are rising. Animal species that are millions of years old are going extinct. However, we can take small steps to reverse the clock. Our earth takes care of us. She has given us everything we need right here. She has given us so much love and it's time we love her back equally. You have the power to set off a chain reaction for a better world for all.