HCRHS Orchestra Teacher Impacts Community
Mr. Magalio has dedicated many years of hard work to the school and local music scene
In 2014, the Magalio family's favorite musical, "Singing in the Rain", was performed by Hunterdon Central theater students. William Magalio, the orchestra teacher that has been at Central for 27 years was conducting the Pit Orchestra during the musical.
"This was a special moment for me, conducting the Pit Orchestra during our family's favorite musical with my daughter playing in the orchestra," he said.
William Magalio is a clear example of how the importance of teaching what you love heavily impacts your career. He demonstrates this inside and outside the classroom by helping the school by conducting and teaching the students and directing/ conducting plays for the Flemington community.
Mr. Magalio is the orchestra teacher at Hunterdon Central. He began his career in 1996, a couple of years after he graduated from Hunterdon Central himself. He actively works with the Freshman String Orchestra, Symphonic String Orchestra, Advanced String Orchestra, Pit Orchestra, Devils Cabaret, Marching Red Devils, and Fiddle Club within Hunterdon Central. To add, there is a Disney trip that takes place every two years where the Orchestra and Band students are allowed to perform their pieces in Disney. Being this heavily involved in his school community proves the true love and passion he has for music and teaching students.
Not only is Magalio involved in his school community, but in his free time when he could be spending time with friends or family, he is involved with the Readington Community Theatre that performs at the Three Bridges Firehouse in NJ every year. This past March, the musical "Guys and Dolls" was performed and directed by Magalio and his wife, Cindy.
He also assists with conducting the Pit Orchestra that plays during these musicals, which some students from Central are involved in as well. Aside from this musical, during the holidays, he has put together a Christmas Music service where he and other students from HCRHS will come together and perform at a church or somewhere in the community. This past December, they performed at the Unitarian Universalist Congregation of Somerset Hills.
According to one of his students, Carissa Dienes, "the whole music scene in Hunterdon is really small, so people from the community will reach out to him when they need performers and he will reach out to us," she said. Every time, Magaio is more than willing to perform with the students.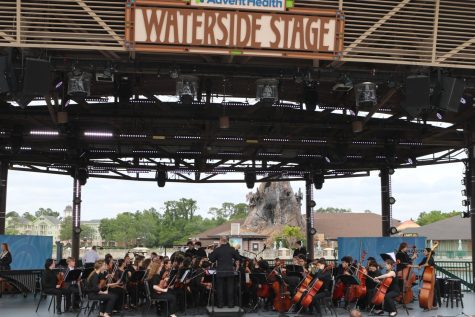 Not only do activities like this affect the community inside and outside of school, but they also heavily impact the students within his classes. 
First-chair violinist, Eve Bodik, is a junior at Hunterdon Central and has been a part of the orchestra for three years. 
"Mr. Magalio works with students, whether it's an individual, a small group or section, or the entire ensemble until they have achieved the intended goal," she said. "He is very tenacious in helping students achieve their full potential and engages the students in discussion regarding each piece and how it is performed in order to promote communication, in both words and music."
Carrissa Dienes, previously mentioned, is a senior and the principal player for the Viola and has been a part of the orchestra for four years at Central. She is very grateful for all of the opportunities Magalio has given her during her time at Central. 
"He's connected me to various different performance opportunities both inside and outside of school," she said. "He let me into pit orchestra my freshman year, and that first year was a great experience to play with and learn from talented upperclassmen. Every year since I've learned more about music and overall improved at playing the viola.I did Fiddle Club sophomore year during the hybrid year, and that's how I learned to play violin and read treble clef which are two very useful skills that have helped me out since then. A couple of months ago, he emailed us about a performance opportunity at a farm event, so I had my last gig there with my quartet outside of school."
"
Mr. Magalio works with students, whether it's an individual, a small group or section, or the entire ensemble until they have achieved the intended goal
— Eve Bodik, junior first-chair violinist
She also believes that a huge aspect that goes into his teaching that is so helpful, is that he realizes that the students are there to have fun, relax, and play music. He never puts unnecessary pressure on the students and that overall helps the students succeed. 
Junior bassist, Sarah Menezes had a similar experience with Magalio as well. Magalio invited her to join the Pit Orchestra since he thought it would be a great experience for her. This inspired her to learn from an older bass player and try much more challenging music than she was used to. She has noticed the growth she has had as a musician. "It wouldn't have been possible without the help from Mr. Magalio," she said.
I have had Mr. Magalio ever since I was a freshman with the exception of my junior year. From being one of his students, Mr. Magalio has always stood out in comparison to other teachers I've had. Yes, it's a little different because he teaches music, however, the passion he has for his career, the students, and music is unmatched, to say the least.
No matter what hardships we are going through when we are trying to play a piece, Mr. Magalio never fails to help us get through it by helping by going through segment by segment, note by note until we get it correct. He never gives up on us and always believes in us which helps keep all of the students motivated.
Sometimes during class, he will be talking to us about something, and then he will go on and tell a couple of stories or topics that he was reminded of from the past. You can tell by the look in his eyes and the tone of his voice how happy music makes him and how important it is to him. You can also tell how much he loves teaching and working with the students.
Finding teachers who are truly passionate about their jobs not only makes a world of a difference for themselves and their happiness, but it also makes such a difference for the students.