Archie Fagan: The Ongoing Story of a Local Legend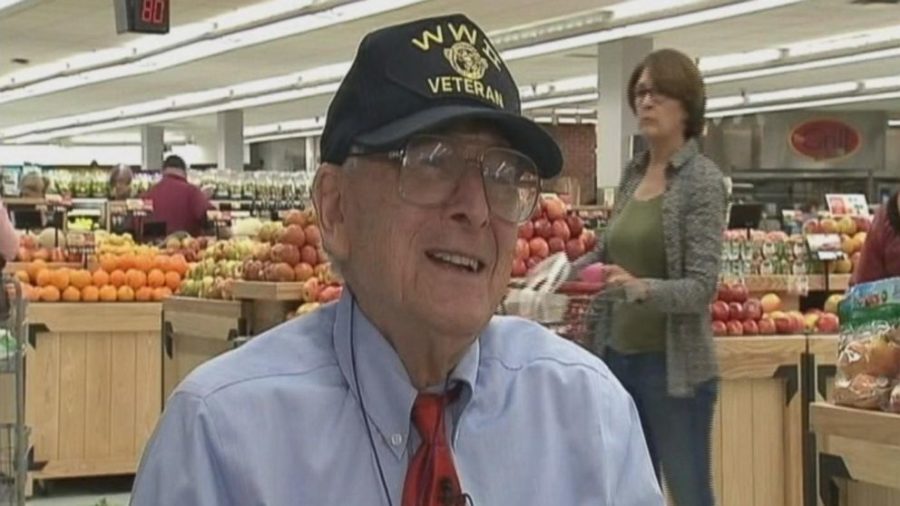 "Get your live lobsters here! Only $5.99 a pound! ShopRite has a great deal on live lobsters! The normal price is $7.99 a pound, but get them on sale now for only $5.99 a pound, only at your Flemington Shoprite!"
We all know him, we all love him. The 90-year old World War II veteran, Flemington Shoprite employee, 2016 Citizen of the Year, and local celebrity himself: Alvin "Archie" Fagan. Archie has proudly worked with Shoprite for 23 years, and is best known for greeting customers with a hearty welcome, and giving them the scoop on all the best deals to find in-store. Although the employee is well-known in the area, few are aware of his remarkable story.
Born in 1927, Archie grew up helping his parents run their small grocery store in Philadelphia, Pennsylvania. At the young age of 17, after high school, he was drafted into the Army, during World War II. He served as a German interrogator, from his admittance in 1944 until his discharge, a little over 2 years later, in 1946. He explains that he was never scared during his time serving; he didn't have time for fear. Archie's primary focus was to save as many victims as he could from the violent war. Upon reflection, the most impactful experience from his service was his foray into Dachau (a Nazi concentration camp) where he had the opportunity to feed, clothe and provide fresh water for the rescued victims of the camp. Archie believes that it was this moment in which he realized that this simple act was the best thing he had ever done in his life. In the wake of the war, he was called to be a military observer, bearing witness to the horrors of the camp in the 1946 Nuremberg Trials.
After returning home from his time in the army, he went to the University of Pennsylvania's Wharton School to study economics, under the GI bill. After college, Archie went back to his family's business, where he would help manage the local grocery store with his brother for over 40 years.
Currently, he lives comfortably in New Hope, Pennsylvania with his wife, Ellen. He spreads his time out: working at the local Shoprite, speaking about his World War II experiences, and contributing to his community in any way he can. He doesn't let his age stop him. With no plans in the near future to retire, Archie continues to brighten the lives of people around him, to inspire the happiness of others. With a real dedication to what he does, Archie loves his job and everything that comes with it. In an interview with ABC News, he claims: "I love what I do, where I'm at and who I am."
And it was this positive, go-getter attitude that would earn Archie the 2016 Citizen of the Year Award, given by the Boy Scouts' Hunterdon Arrowhead District of the Washington Crossing Council. This is an award given to citizens who display the Scout Oath and Law in Hunterdon County. However, this is not his first time being recognized for his outstanding character. Archie received a Resolution from the District 16 Legislators, earning the title of Grand Marshal of the Flemington Holiday Parade; he was also honored for his service in World War II with a Quilt of Valor. Evidently, his contributions to the community and service are impossible to go unrecognized.
Later in his interview with ABC, Archie brings it all back to the love he has for his job at Shoprite, explaining: "I was born in this business as a child 90 years ago and I love this business and I love the people that I care about here and I love the products I sell and it was made for my lifetime." The Flemington Shoprite is where he feels most at home. Not only does he inspire customers, but the customers inspire him, to continue in his service to the community. In a goal to leave his mark on the people of Hunterdon-Raritan, he refuses to falter in his work, or to forget the people he loves. A truly humble and peaceful citizen to the Flemington community and beyond, Archie is nothing less than a local hero and role model.
Archie's story goes to show that as citizens of this community, each and every one of us has the power to make an impact on others, through acts both big and small. But the impact we choose to have is determined by the way in which we hold ourselves, and view the world. It is your choice whether you will elect to make it a good day or a bad day, whether you decide to help others or to put them down, whether you choose to try or to give up.
Next time you see Archie at Shoprite or a local event, make sure you thank him for all that he has done, both in his military service and his service to the community. Although the act may seem small, it is the little things in life that mean the most to him. And it is the little things that have the power to inspire.
Sources used:
Pelletiere, Nicole. "91-Year-Old Veteran Greets Customers at Supermarket: 'I Love What I  
Do'." ABC News, ABC News Today, 2 March 2017.
Turpin, Craig. "Boy Scouts to Honor Hunterdon County's Own Archie Fagan." NJ.com,
NJ.com, 19 September 2016.
ZinkyBros. "An Interview with WW II Veteran Alvin 'Archie' Fagan." Online video clip.
YouTube. YouTube, 6 March 2016.