Sponge: Out of the Water, Onto the Stage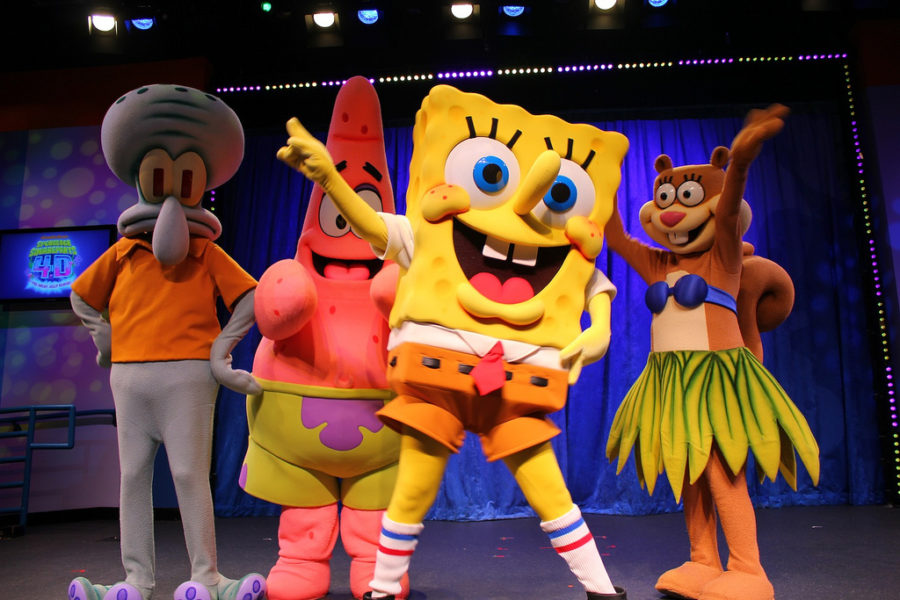 Bridget Gum
February 22, 2018
"Stakes are higher than ever before as SpongeBob and all of Bikini Bottom face the total annihilation of their undersea world. Chaos erupts. Lives hang in the balance. And just when all hope seems lost, a most unexpected hero rises up and takes center stage."
Spongebob Squarepants is moving away from Nickelodeon and hitting the big stage as a new Broadway musical in New York City. This musical was based on the television show Spongebob Squarepants, originally created by Stephen Hillenburg in 1999. The animated series has won six Annie Awards, eight Golden Reel Awards, two Emmy Awards, twelve Kid's Choice Awards, and two BAFTA Awards. You may know the hilarious and lovable sponge who lives under the sea in his pineapple, but many people didn't know he could sing. This musical is based on the episode called, "Bikini Bottom Day." In this musical, Spongebob and his friends devise a plan to help save the town of Bikini Bottom from severe volcanic eruptions with an invention made by Sandy.
While it could easily become a predictable rehash of old episodes, the show itself is anything but. For one, countless big names from the music and theater industries had a part in its creation, making it hard to believe the diverse production was based on a children's television show. The musical can't fall into a single genre, as it includes songs from almost every genre of music—from classic rock to hip-hop, and country to indie. Several artists have written original songs for this new musical: Sara Bareilles, The Flaming Lips, Lady Antebellum, John Legend, TI, Panic! at the Disco, and David Bowie to name a few. Even the original voice of Spongebob, Tom Kenny, worked on a number. Although the tunes were composed by the many talented people listed above, the lyrics were all written by Jonathan Coulton, who has been producing and performing original music since 2004. The music was supervised and arranged by Tom Kitt, a gifted composer, conductor, orchestrator, and musician who has won a multitude of awards for his work. Additionally, before hitting the stage, Spongebob was hitting the books in a title authored by the New York City-based writer and musician Kyle Jarrow. The stunning choreography was done by performer and theatre director, Christopher Gattelli. He has won various awards for his choreography in many musicals. This musical also contains many Grammy-winning masterminds, and a Tony-winning design team. Before the show even began production, it was already packed to the brim with phenomenally talented creators and masters of the arts.
This Broadway show is truly a delight, especially with the hilarious performance put on by actor Ethan Slater, who plays the big yellow sponge himself. Ethan, age 25, has been in many musicals and plays ever since he was a child, but he also spent a lot of his time playing sports. He attended Georgetown Day School in Washington, and as a freshman he was denied a part in the play. As an alternative, Ethan decided to take up wrestling. The sport payed off because he ended up making the varsity team at the end of that year and Slater even says that the sport has helped him keep up with all the hard work he's had to put into this musical. "I didn't think I was going to be able to sing this song eight shows a week, or learn these weird lines, or to climb an 18-foot ladder wall upside-down while singing,'' Slater explained. "Those things sound impossible, but if you work on it, you can make it happen." A casting director for the musical finally realized Slater's talent, when he was auditioning for a part in Romeo and Juliet at Vassar College. After watching Slater's audition, the casting director new that Ethan would be perfect for the part of Spongebob. Yet, due to the small budget and limited resources, they couldn't start the musical immediately. While waiting, Ethan performed in a web series called Redheads Anonymous in 2015, and in 2016 he was in an Off-Broadway production of Baghdaddy until he was called upon to play Spongebob.
This isn't the first major musical that the director of this new Broadway experience, Tina Landau, has taken on. Her journey began in Beverly Hills, California, when her film- and television-producing parents moved the family there. Landau graduated from Yale University, where she directed numerous productions. She later attended the American Repertory Theater Institute for Advanced Theater Training at Harvard University. She has directed many Broadway, Off-Broadway, and regional plays, the vast majority having taken place at the Steppenwolf Theatre Company in Chicago. Moreover, Tina has taught at various schools, including Yale University, the Yale School of Drama, and Tisch School of the Arts at New York University.
The Broadway musical premiered on June 7th, in 2016 in the Oriental Theatre in Chicago, but has since moved to New York City. Tickets are out now, so go out for a magical night to see the wonder that is Spongebob: The Broadway Musical.