Local Coffee Shops in Hunterdon County You Have to Visit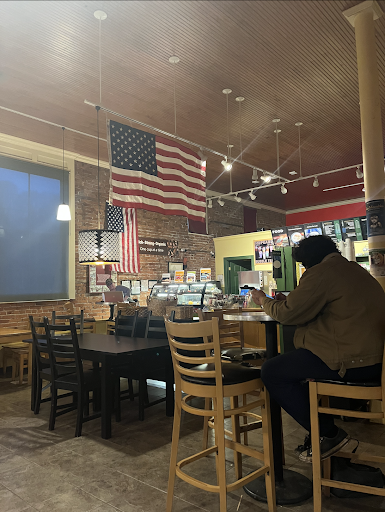 A coffee shop can be a place to study, catch up with friends, or read a good book. It is no doubt that these local businesses can be a staple in any community and are like a second home to most. In this list, you will be given a rundown of a few local coffee shops within Hunterdon County. As this article takes atmosphere, drinks, and customer service into consideration, use it as a guide for what coffee shop you should try next. As a control for this article, a regular latte was ordered at each shop. 
Factory Fuel Co.
Walking into Factory Fuel, the first thing you notice is the creative atmosphere. Inside the building, you are met with a maximalist and eccentric vibe.  The coffee shop is renovated from a historic pottery factory, giving the place lots of character. There are many different seating areas available, from full tables and relaxed couches to a restored pottery kiln that's been converted into a super cozy seating area. The customer service never fails to impress when you're met with a smile as well as a quick and easy ordering process. Factory Fuel takes cash, card, and Apple Pay, which makes it a cinch to pay. While the atmosphere and customer service goes above and beyond, the coffee is slightly average. The latte took a little amount of time to make and was made well. But the coffee itself was almost bitter and had a unique taste that most wouldn't expect. However, this is a great place to unwind, and if customer service is important to you, then stop by this shop.
Hardy's Coffee Bar 
Hardy's is a hidden gem located just off of Main Street in Flemington. Although this shop is small in size, it is well decorated, and has a modern feel to it, which makes it super appealing. There was only one person behind the counter, so it took a minute to make,  but it was worth it. The latte itself was light and tasty, but the excess amount of milk can be a hit or miss with some people. The taste of the brew was nice, and it was easy to drink. While the seating was welcoming, the customer service was subpar. The drinks will tap into your wallet more than most would prefer. Hardy's has a great selection of beverages on their menu, as well as has interesting, fun monthly specials for their drinks. For example, in February Hardy's had a "rose latte" which was their regular latte with rose flavoring and a dried rose garnish. You should stop by Hardy's for a reliable good cup of coffee and put a well-deserved spotlight on this independent shop.  
Black River 
With many shops providing basic iced coffee, lattes, cappuccinos, regular coffee, iced tea, and more, Black River provides these drinks with their traditional and homemade brew. Whenever you walk into Black River, you feel enthralled by the smell of a good cup of coffee. While the shop does have seasonal syrups for specialty drinks, they should provide basic syrups that people can choose from like vanilla or caramel for those people who like to add more to their coffee. One of the syrups that's tasty to have in your coffee is the simple syrup. If you're someone who doesn't like your coffee too sweet, this is a perfect amount of sugar to include in your coffee: not too sweet, not too bitter. The majority of coffee shops have seating areas added to their shop, like Black River. Coffee shops usually have a place to sit and chat or complete work or just sit and drink coffee. There are a few stools in the front where you order but there is a high floor where you take in a few couches and a few tables and chairs. The most indelible part about Black River is the seating area. It's the perfect place to sit and catch up with a friend, as well as a comfortable place to read and get work done. If you're not feeling productive at home and you need a change of scenery, Black River is there to serve as a motivator. The employees are always welcoming and pleasant to the customers. On the weekdays they put in an order efficiently and it comes out within minutes. Although  Saturdays are their busiest day of the week, the service on Saturdays could be better and the drinks could come out more efficiently or the customers might be left waiting for too long. Overall, Black River makes you feel comfortable within that environment and their drinks leave you satisfied. 
The Stone Bean
This cafe is placed in a beautiful location in Clinton. The Stone Bean borders the gorgeous river. You can even utilize their outdoor seating and enjoy your coffee while looking out over the river. It's a beautiful scenic place to visit during the winter but primarily the summer. The Stone Bean offers coffee as well as different teas like matcha, bubble tea, and regular tea. This shop also provides customers with syrups to choose from. The baristas prepare a latte with the perfect ratio of espresso and milk. The latte itself came out quickly and had an amazing flavor. The espresso has a nice roasted taste, but not to the point where it tastes burnt. The main word I would use to describe this environment is "cozy". The Stone Bean has different seating areas to accommodate, there are tables in the main room with a real wood burning fireplace to set a warm and welcoming vibe. The coffee shop is slightly rustic and small with soft lighting and rooms that feel like they're giving you a hug when you walk into them. To add, the quality music selections added to the general ambience. This coffee shop is perfect for all seasons, offering customers areas to sit, relax, and have a good conversation. 
Citispot Tea & Coffee
The atmosphere in Citispot was very relaxed and efficient, and the customer service did not disappoint, the barista was very friendly and happy to give a suggestion for drinks. The vanilla latte didn't present as I anticipated. It came out extremely quickly, but was very sweet and overshadowed the espresso. The decor inside the coffee shop does help a lot; there are big windows that look out over mainstreet and many tables to sit at. The jazz playing inside the store was also a lovely touch. Finally, this coffee shop is a convenient spot because of its hours. Citispot is open from 6:30 AM to 9:30 PM seven days a week, 365 days a year, according to their Instagram. So if you ever have to study late at night and need a caffeine boost to keep you going, Citispot's got you covered. 
Hunterdon County is full of many creative and cozy local coffee shops. Before you decide to go to Starbucks or Dunkin, consider supporting a small business and stopping by one of these cafes. 
Leave a Comment