COVID-19 Strikes The White House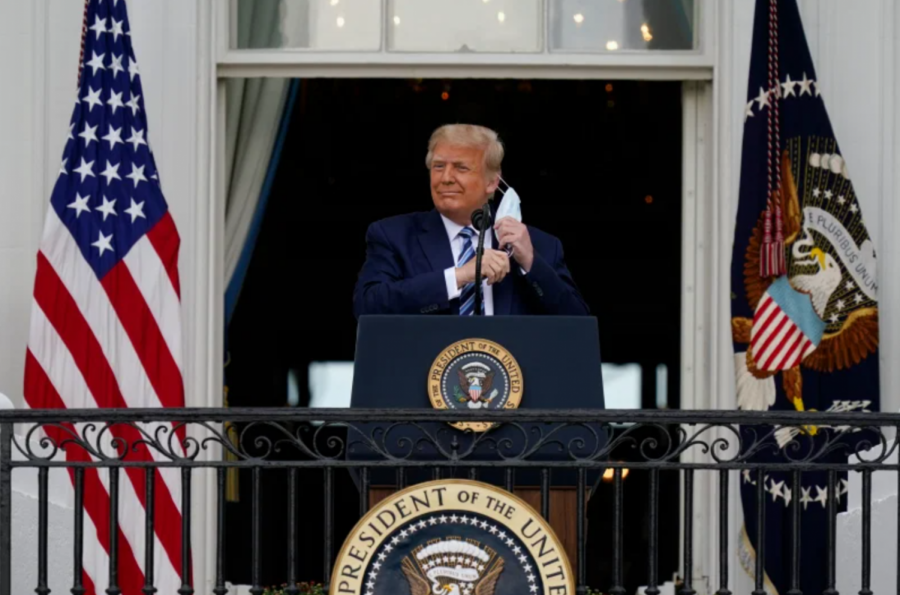 Andrew Lombardo
October 30, 2020
For the past several weeks, President Donald Trump and first lady Melania Trump's positive COVID test has been an evolving story. After eight months of the virus spreading rapidly throughout America under Trump's administration, the President and the First Lady tested positive.
 The President first announced that he had the virus via Twitter at 12:54 am on October 2nd. "Tonight, @FLOTUS and I tested positive for COVID-19. We will begin our quarantine and recovery process immediately. We will get through this TOGETHER!" 
Later that day, "out of an abundance of caution," the media reported that President Trump would be moved to Walter Reed Hospital, an Army Medical Center in Maryland, to receive special COVID treatment.
On October 3rd, Sean Conoly, a White House Physician, stated, "Just 72 hours into the diagnosis now. The first week of COVID…are the most critical in determining the likely course of this illness." This contradicts Trump's original tweet, as he would have tested positive on September 30th instead of October 2nd. Dr. Brian Garibaldi, a Physician who was treating the President, supported this claim: "About 48 hours ago, the President received a special antibody therapy…" The President was already receiving treatment for COVID-19 as late as October 1st, assuming other treatments did not come first.
Later, a memo was released by the White House about the timeline issues. "…while summarizing the President's health, I incorrectly used the term 'seventy-two hours' instead of 'day three' and 'forty-eight hours' instead of 'day two'…the President was first diagnosed with COVID-19 on the evening of Thursday, October 1st, and had received Regeneron's antibody cocktail on Friday, October 2nd."
During his stay at Walter Reed, the President posted several social media updates on his general health and recovery. Many Trump supporters gathered outside the hospital, waving flags and "get well soon" signs, though they were not practicing social distancing and were without masks for a majority of the time. 
On October 5th, at 2:37 pm, Trump tweeted, "I will be leaving the great Walter Reed Medical Center today at 6:30 pm. Feeling really good! Do not be afraid of COVID. Do not let it dominate your life. We have developed, under the Trump Administration, some really great drugs & knowledge. I feel better than I did 20 years ago!" This tweet worries some people, believing that Trump will continue to underestimate the impacts of COVID-19. Others worry that he will continue to work against the recommendation of the CDC and other infectious disease researchers and continue to play the pandemic down. "I wanted to always play it down. I still like playing it down because I do not want to create a panic." 
At 6:30 pm, Trump was released from Walter Reed and walked off the helicopter with a mask in his hand upon arrival. He later posted another video thanking the staff at Walter Reed for their services.
On Day 10 of his infection, Trump held a rally in Sanford, Florida. With multiple symptoms of the virus and a positive test, Trump defied the CDC's recommendations and proceeded with attending the rally. Furthermore, while it was believed that Trump's Campaign would pause until his quarantine period is over, and these events' sizes would be reduced, that was not the case. As he held a rally as mentioned above, with full attendance.
Trump's positive test will change how the election runs. The Commission on Presidential Debates announced that the October 15th debate would be virtual. Less than an hour after the announcement, Trump stated on Fox News, "I am not going to do a virtual debate." Instead of a debate, two separate town halls were held on that same day, where each candidate was asked questions on popular topics including the Black Lives Matter Movement, COVID-19, and the economy.
Additionally, more than thirty-four residents of the White House have contracted COVID-19. This includes an Advisor to President Hope Hicks, Policy Advisor Stephen Miller, Political Advisor Kellyanne Conway, and several other unnamed workers. Most recently, Barron Trump, the President's son, has tested positive.
The situation around President Trump and the First Lady's positive COVID-19 tests are continuously shaking the present and the future of America as a whole. While currently, this is as much as we know about the situation, the future of the President's well-being and campaign will change as time progresses.