Taking Advantage of Our Libraries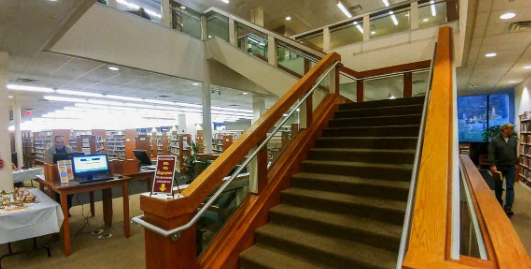 Picture this: Once the end of block four bell rings, the Breezeway of Central is abuzz with activity. Students rush to change into uniforms and grab their instruments from the music building. A flurry of seniors reach their cars, freshmen meet up in the Commons, and others run to the buses. Unfortunately, one of the most under-used resources in the entire campus, a place where teachers and students thrive, productivity increases, and fun is had, is left almost empty at the end of the day. This place isn't any of the gyms, cafeterias, or classrooms scattered throughout the buildings. Instead, this treasure trove of free activities, books, and academic assistance is the HCRHS Instructional Media Center, also known as the IMC.
Never entered the IMC except to get your Chromebook fixed or for an English class? Haven't  been to a local library since you were little? Although libraries seem to be of little use for much else than getting a book for school, scientists believe that libraries can benefit teens mentally, physically, and emotionally. Experts at Post University in Connecticut state that "when you go to the library, you change your setting…the resources at the library can spur creativity as you delve into the works of others." Students who don't feel productive at home or in the classroom can improve their study habits simply by being in an open space like a library. More often than not, other students will be doing homework and studying right alongside you, unlike in another crowded space like the HCRHS Commons.
If you're struggling with your workload and could use a helping hand, libraries have your back. Other researchers note that the library atmosphere is "a wonderful place for teacher[s] and student[s] to talk about what's going on, establish a healthy connection, and build trust." Libraries give you the privacy you need to discuss solutions that benefit both your academic access and your well-being, and tutorial time in the IMC is ideal for this. Truly, the real secret to an A on a test and confidence during class lies in being among the books!
Not only is the IMC awesome for schoolwork, but it also provides an excellent place for creating new things and having fun! Katherine John, a freshman at Central, is a frequent attendee of the IMC Makerspace Events, where students draw, design, and even 3D print their creations. She shared that during this time, students "have fun, get to design things that give them a sense of accomplishment, and meet new people with common interests." The IMC offers so much more than books, and learners of all interests can find their creative spark there. Libraries foster a sense of community and companionship, and the IMC is no different.
Excited to explore all the IMC has to offer, but have no idea where to start? HCRHS librarians Ms. Ford, Ms. Emili, and Ms. Spina share some tips in their newsletter emailed to all students each month. February 2023's edition contains invigorating thriller recommendations to keep you on your toes, Valentine's Day crafts, and upcoming IMC events. Want a popular mystery with an accompanying TV Show? The newsletter suggests reading One of Us Is Lying and its sequel, One of Us Is Next, by Karen M. McManus. Or, would you rather try a horror novel about a close-knit group of friends and a mystery lurking in the woods? The Missing Season, by Gillian French, is another popular librarian recommendation. All of these stories‒and more‒can be found on Destiny, the IMC's online catalog.
Outside of school, the local Hunterdon County Library System is filled with numerous genres of literature, free events, and groups designed especially for teens. Every month, their Teen Lit Loot Bag program gathers books with one's individual preferences in mind, along with some candy and extra treats. All a student needs to do is fill out a form on their website with the kinds of books they've liked in the past, and they'll be matched with even more recommendations to read. Even if you're all set on books or reading isn't your favorite hobby, monthly movie nights, held at libraries throughout Hunterdon, are perfect for seeing new favorites and meeting more people. The more you explore, the more you'll see how fun libraries can be.
Perhaps now, once the final bell rings and people clear out to their various activities, more students will choose to spend time in the IMC. They might study, hang out with friends, work in the Makerspace, or get tutored by a teacher, but most of all, they can take advantage of all the library has to offer them. From providing a creative atmosphere to helping students get the assistance they need, the benefits of the IMC have the potential to improve student productivity and livelihood, both in school and during the rest of the day. The next time you pass by the IMC, or indeed any library, take the time to go inside, meet up with some friends, and talk with the librarians. You never know what new things you will discover!
Sources:
https://njroute22.com/hunterdon-county-library-headquarters-flemington-nj/
https://post.edu/blog/9-benefits-of-libraries-for-college-students/
https://www.martinpublicseating.com/blog/the-importance-of-a-school-library-for-students
Leave a Comment